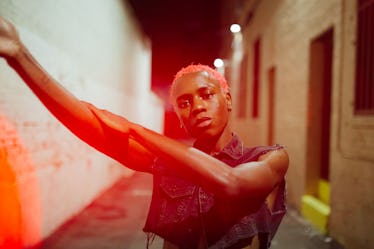 Here's How Tarot Can Help You Fall In Love, According To Experts
If you consider yourself spiritually inclined, there are many ways of gaining insight on your love life and what's to come. One method can be tarot card readings. Tarot can help you fall in love in a way that's tailored to your specific needs and mindful of greater forces at work. . Sarah Shipman, a professional tarot reader and author/illustrator of the Our Tarot deck, says readings are "a lot like dream interpretation, except you're awake the whole time."
With its origins in the Islamic playing card game Mamluk, a tarot card deck has 78 cards. They're split into a "minor" and "major" arcana. The minor arcana — the group of cards that answer questions about "minor" aspects of your life — has four suits. But instead of clubs, diamonds, hearts, and spades, the suits are cups, pentacles, swords, and wands. Each suit will have cards numbered one through 10, with an additional queen, king, knight, and page. The major arcana — the group answering questions about "major" events or life changes — has pictures of concepts instead of the four suits. Examples of these cards are the Tower, the Wheel of Fortune, and the Empress. These cards are also marked one through 21, with the 22nd card (aka the Fool) marked zero.