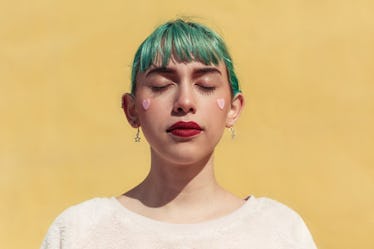 Daily Affirmations To Recite When You've Got A Crush, Because You Deserve Love
Having a crush is equally as anxiety-inducing as it is exhilarating. Should you tell your crush you're into them? And if so, when and how? Do you go the subtle route with a few flirty texts or come on strong IRL? And what if they don't like you back? The mere possibility that they could be into you gives you a rush that beats any rollercoaster, but the alternate thought that your feelings could be one-sided stresses you out. Indeed, if you've got a crush, you know it can be confusing AF — and that's where daily affirmations come in. By saying these simple phrases on the daily, you'll be able to achieve a more positive mindset about your situation.
Here's how it works. Basically, the idea behind self-affirmations is that by saying these positive statements about yourself, you can challenge any toxic negative thoughts. You know, the kind that tell you that you're not good enough for your crush, or they'll never like you back. Who needs those? If telling yourself how amazing you are feels awkward, think of it as an act of self-love. And if you're still skeptical, consider that a 2014 study published in Annual Review of Psychology found that positive self-affirmations can enhance your feelings of self-worth. Not only that, but 2011 research revealed that self-affirmation helps people to view events from a more rational, reasonable viewpoint. And let's be real, you could probably use that kind of perspective when you're crushing hard.
If you're ready to embrace an optimistic mindset, make it a point to utter these simple phrases on a daily basis for a much-needed dose of self-love.