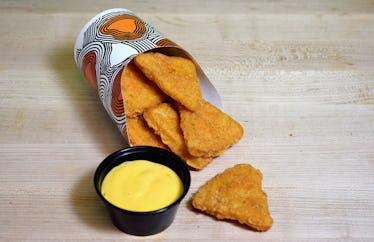 Taco Bell Is Bringing Naked Chicken Chips Back In The Cheesiest Way With New Menu Items
Back in May, Taco Bell released its version of chicken nuggets — "Naked Chicken Chips" — for the first time as a limited edition menu item. Now, five months later, Taco Bell's Naked Chicken Chips are available again in even more delicious ways, the popular taco go-to announced on Thursday, Oct. 5. Are your tastebuds ready? Here, let's take a look at all the new chicken things you can order (and promptly douse in extra hot sauce).
First of all, the chip-shaped nugs' themselves are back nationwide.
According to a Taco Bell press release sent to Elite Daily, Naked Chicken Chips (made from Mexican seasoned white meat) are back for a limited time and can be ordered à la carte for just $1.99. Each order comes with six savory Chips and a side of cheesy dipping sauce, making them the perfect snack. NOM.
There's also a Crispy Chicken Quesadilla.
As the name suggests, Taco Bell's new Crispy Chicken Quesadilla comes stuffed with all your standard TB quesadilla ingredients: a tortilla, a three-cheese blend, and a creamy jalapeño sauce... and the crispy chicken, otherwise known as Naked Chicken Chips. Taste it yourself for just $3.49, or if you're really hungry, it does come in a super cheap $5 box with a Doritos Locos Taco, a Crunchy Taco, and a medium drink.
And a new Naked Chicken Chalupa flavor: Bacon RANCH.
Taco Bell loves using unconventional ingredients as a holding vessel for its unique flavors. At breakfast time, they've got the Naked Egg Taco, which is literally a breakfast taco wrapped in a fried egg instead of a tortilla. And at all other times, they have Naked Chicken Chalupas (aka chalupas with their signature crispy chicken as a shell).
Now, fans of chalupa-shaped fried chicken can order the weirdly intriguing food in a bacon ranch flavor. It's stuffed with bacon, spicy ranch, lettuce, cheddar cheese, and tomatoes — and it looks crazy-good. The Bacon Ranch Naked Chicken Chalupa is currently being tested in Knoxville, Tennessee — and, like the Crispy Chicken Quesadilla, costs $3.49 on its own or $5 in a box.
But that's not all! Taco Bell is also testing Chicken & Biscuits.
While Chicken & Biscuits might sound out of place on the Taco Bell breakfast menu, they actually look pretty good. Complete with triangle-shaped biscuits to complement the shape of the classic Naked Chicken Chips, they're an original take on the Southern favorite. Each $1.99 order comes with a dipping sauce of your choice (Jalapeño Honey or Nacho Cheese), but here's the bad news: This triangular breakfast is only available in Indianapolis, Indiana. Cue my biscuit-loving tears.
All the Naked Chicken newness at Taco Bell is available now through mid-November, so act fast if you want to try everything. Here's to hoping they eventually make Naked Chicken Chips a permanent menu item, because chicken nuggets are life! Hell, Taco Bell is life.
In fact, those who love hitting up the fast casual cantina slash drive-thru and want to show their l-o-v-e by wearing taco merch will be pleased to know that the company has collaborated with Forever 21 and is slated to release a clothing line. Nope, I'm not kidding. The brand will preview their first-ever fashion collab on Oct. 10 in Los Angeles' Downtown Fashion District. Some of the clothing items include hot sauce body suits and millennial pink pullovers embroidered with Taco Bell favorites. I have a feeling that, similar to Naked Chicken, the Forever 21 x Taco Bell will be a hit.
What do you think? Picture this: The next time you're browsing Forever 21's affordable racks, you can pick up some Taco Bell swag and then promptly hit up the actual restaurant for some Naked Chicken Chips before they're potentially gone forever!