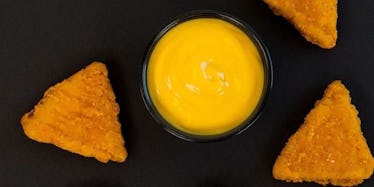 Taco Bell Is Releasing Chicken Nuggets But Refuses To Call Them 'Nuggets'
Taco Bell
If it looks like a chicken nugget, smells like a chicken nugget and even tastes like a chicken nugget, it is in fact, a chicken nugget.
But don't tell that to Taco Bell.
The Mexican fast food chain is releasing Naked Chicken Chips on May 11, and the crispy dish does seem to resemble our dearly beloved nuggets.
Have a gander for yourself.
They're nuggets right?
Yeah... we thought so, too.
Naked Chicken Chips are all-white chicken covered in "bold Mexican spices and seasoning" to appeal to the deep-fried craving you've been experiencing.
It's a good thing someone over at Taco Bell was paying attention to our needs.
After releasing the Naked Chicken Chalupa, the limited-time treat was removed after about one month or so, ultimately creating a deep-fried void that needed to be filled.
The Naked Chicken Chips (again — not nuggets) will become available in a six-piece order for $1.99, a 12-piece order for $3.99 or — if you're not terribly preoccupied with your heart health — with a Burrito Supreme, Crunchy Taco and drink for 5 dollars.
Let's not forget Taco Bell's special cheese sauce is available with the chips (that are really nuggets) for customers' dipping pleasure.
Unfortunately, this new menu item will only be available for a limited time.
Don't be disappointed, though! There are a lot of other things to look forward to with Taco Bell.
Have you heard you can plan a romantic dinner for two at Taco Bell's test kitchen?
If that's not true love, I'm not exactly sure what it is.
After you've fallen in love post taco-date — and after you've put a ring on it — you can marry your dream girl or guy at the Taco Bell headquarters in Vegas (really, where else would it be?).
After showing off your engagement bling, get ready to indulge in a reception of tasty Taco Bell treats.
If you hurry up, you can make it down the aisle in time to have the Naked Chicken Chips at your cocktail hour!
We can't wait to give them a try.
Citations: Taco Bell announces Naked Chicken Chips, a.k.a chicken nuggs with cheese sauce (Mashable)