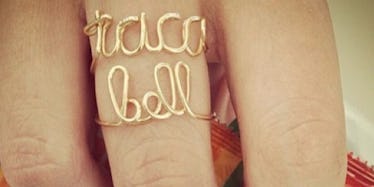 A Taco Bell Ring Is The Cheesy Holiday Gift That Will Spice Up Your Love Life
Instagram
They say diamonds are girl's best friend, but I beg to differ.
In my opinion, tacos are a girl's best friend.
I'd take a trip to Taco Bell over Kay Jewelers any of day of the week (because every day is taco day).
If a dude bought me a burrito instead of a bushel of roses this holiday season, I'd be a happy camper.
Apparently, I'm not the only one who thinks a Taco Bell-inspired gift would be better than the typical romantic gesture. Rings that speak to our nacho-lovin' souls have been causing a buzz this holiday season.
It's beautiful, isn't it?
According to Mashable, the fast food-inspired pieces of jewelry are available just in time for Taco Bell lovers to shower their SO with gifts that actually matter this year.
I'm not trying to diss the knit sweater you bought your boyfriend, or the diamond necklace you just purchased for your lady. I'm just saying you should probably return those things and buy these rings instead — especially if your SO likes Taco Bell.
*sigh*
I can't even imagine a happier version of myself than the one looking down at my crunch wrap supreme and seeing my fingers dazzled in Taco Bell jewelry.
I'm serious! They're insanely cute, and I've already asked Santa for a pair for each hand (I'd ask my boyfriend, but that's so funny because I don't have one).
I'm sure you're frantically searching the web and asking yourself where you can buy one of these gems, but chill — I have your back.
You can purchase the bling on Taco Bell's website underneath the "accessories" tab. Right now, they're selling for $25 per set, which is a pretty solid price if you ask me.
It's a lot better than the hundreds of dollars you could be spending on glamorous diamonds that are probably going to end up getting lost a few weeks after the holidays are over.
So, take it from a taco-lovin' lady who also has a passion for rings: This gift is EVERYTHING.
Buy the rings, take a romantic trip to Taco Bell (with your bae or by yourself) and enjoy the holiday with a burrito at hand.
Citations: Mashable