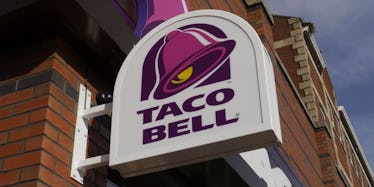 Romantic Dinner Reservations At Taco Bell's Test Kitchen Will Make You Swoon
Shutterstock
In case you weren't already aware, Taco Bell is basically synonymous with "true love."
Trust me, you'll have your SO making reservations at the Taco Bell Test Kitchen before you even finish this article. But first, let's cover the basics.
During the holidays, our favorite Mexican fast-food chain rolled out the cute "Taco Bell" ring — a romantic gift that would make any lucky lady say "I do" to a Naked Chicken Chalupa.
After the rings became a hit, Taco Bell realized it was time for couples to take the next step.
As a result, the restaurant announced on Valentine's Day that it will hold weddings at its flagship store in Las Vegas beginning this summer.
The press release reads,
That's right, you and your significant other will be able to get hitched inside the restaurant. We even have a wedding chapel on the second floor just for the occasion.
There's no doubt this is every girl's dream venue. Plus, that'd be one hell of a cocktail hour.
But before you make it down the aisle at the Taco Bell chapel, you have to get acquainted with your SO with a date or two.
Taco Bell realized its error and restructured the "love department" by introducing tac0 lovers to its latest romantic idea: a fancy dinner date at its test kitchen.
Beginning on on Cinco de Mayo, 32 reservation slots at the Taco Bell Test Kitchen will be available on OpenTable. The first dining experience will begin on May 19.
Upon arrival, you and your sweetie will be treated to new takes on classic menu items and even more new treats that haven't been unveiled in stores yet.
Sounds pretty fantastic, but there are a few things to keep in mind that may or may not give you the burrito blues.
For one, the test kitchen is in Irving, California, and Taco Bell will not cover your travel expenses to get there (I did warn you about those burrito blues).
Since everyone is undoubtedly going flock to OpenTable on May 5, reservations are going to book up quickly. Fear not, though -- more dates will come after the first dinner.
So, if you have your heart set on a special someone — and a Cheesy Gordita Crunch — make those reservations.
Live más, baby. Live más.
Citations: You Can Make A Reservation For A Romantic Dinner At Taco Bell's Test Kitchen (Refinery29)