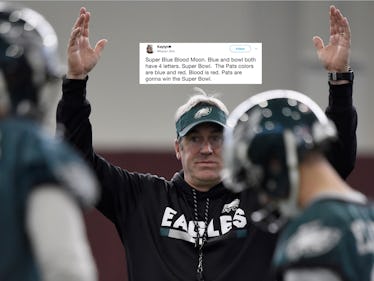 These Hilarious Memes About The Super Bowl Are Even Better Than The Game
Hannah Foslien/Getty Images Sport/Getty Images/Twitter
The Super Bowl is finally here, and that can only mean two things: On the bright side, we're about halfway through winter (don't tell me whether or not Punxsutawney Phil saw his shadow, I don't want to know), but on the other hand, it also means it's that time of year again when I have to pretend to know more about football than I actually do. Well guys, what I lack in football knowledge, I hope to make up for in some solid Super Bowl 2018 memes. I may not know much beyond the fact that a touchdown is a good thing (right?), but I do know my way around ~the internet.~
OK, so here's what I do know about Super Bowl LII: From what I can gather, no one really likes either of these teams. The New England Patriots will probably never live down the drama of Deflategate, and most people are sick of watching them win year after year. The Philadelphia Eagles, on the other hand, don't really seem that awful as a team, but their fanbase isn't exactly, um, likable. They've also leaned into the whole "underdog" identity, with Eagles players actually donning these big, goofy-looking dog masks on the field. But like, if doing so means we get to watch dogs do press conferences, I have no complaints.
Regardless, the shade is so strong in this Super Bowl. The memes don't lie, y'all.
The Patriots are definitely taking the brunt of that shade, though.
Personally, I just can't believe that fans from either team have paid money to go and watch football in such brutally cold weather.
Besides, what if the super blue blood moon already predicted the results of the game?? Seriously, everyone should just go home.
Still, some people do seem to love the Super Bowl no matter what — cold weather and crappy teams be damned.
I mean, yes, I can definitely get behind the idea of a lazy Sunday spent all day on the couch eating as much takeout as I please.
Even vegan peeps love getting in on the foodie action.
And, of course, there are the long-anticipated Super Bowl commercials, which help keep me from completely melting into my couch.
My personal favorite commercial so far this Super Bowl has been the Danny DeVito M&M's ad. I mean, yes, the 30-second spot is sort of low-key about cannibalism, as DeVito plays Red (aka the red M&M), who is granted a wish to transform from an M&M into a real human being. While Red is, at first, ecstatic to be a real person, he soon realizes that no one wants to eat him anymore, because, you know, he's not an M&M. Cue Danny DeVito running around the streets of New York City, begging people — including YouTube celeb Todrick Hall — to eat him. What can I say, I love Danny DeVito, I love M&Ms, and I do enjoy a little ~meta~ humor.
Aside from the commercials and the food, fine, I'll admit that the halftime show is usually a good time, too.
But also, I cannot confidently dispute these points:
Plus, when I see Justin Timberlake out there on the field, part of me just can't help but long for the 2001 Super Bowl halftime show, when Britney Spears, NSYNC, Nelly, Mary J. Blige, and FREAKING AEROSMITH basically made musical magic right before our very eyes.
Come on NFL, at the very least, how can you give us Justin Timberlake, and not the rest of NSYNC?
At least there was ONE quality meme to come out of Justin Timberlake's sort of lukewarm halftime show.
BRB, shaking my head 'til I die.