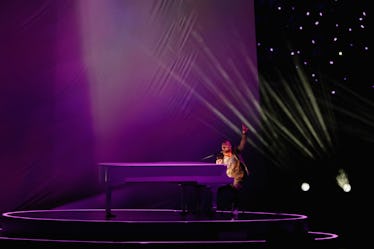 Justin Timberlake Did A Tribute To Prince During The Super Bowl & It Was Everything
Streeter Lecka/Getty Images Sport/Getty Images
He did it. After a weekend of rumors and denials, there wasn't a hologram, but there was a Prince tribute during Justin Timberlake's Super Bowl performance. The entire area around the stadium turned purple and the symbol that one stood for Prince's name was projected down upon U.S. Bank Stadium, centering it in the middle of the circle.
It might not have been the rumored hologram people were expecting, but it was still an enormous projection on a scrim that dropped down from the roof. The whole production segment was still technically impressive and appropriate for Prince's hometown.
Timberlake's whole set was a tribute to his two decades in music. Perhaps most surprisingly, he chose to open with a one-two-punch of his latest single followed by one of his oldest songs "Rock Your Body," which is famous for being THE song that Nipplegate happened to. Considering that the shadow of Janet Jackson has chased Timberlake ever since it was announced he would be performing this evening, it was both a ballsy acknowledgement of the past, and perhaps a sign that he had planned the show with the hope she would agree to appear. (Jackson put out a statement yesterday that she would not be at the Super Bowl.)
The "will he or won't he" on the Prince tribute started on Friday when word first leaked that this was the planned secret guest spot. On the one hand, it made sense. Minneapolis was Prince's hometown, the loss of The Artist Once Known As A Symbol was a hard blow to music, and Prince's own Super Bowl halftime performance was legendary.
On the other was the fact that Justin Timberlake was famous for having had a spat with Prince when he was alive. Prince had noted when asked about the song "SexyBack" that "Sexy never went away." Timberlake took it personally and served a diss track line aimed at Prince in a guest appearance on the Timbaland 2007 song, "Give It To Me."
We missed you on the charts last week/ Damn, that's right you wasn't there/ Now if sexy never left, then why is everybody on my s**t/ Don't hate on me just because you didn't come up with it.
Hardcore Prince fans felt this was a sign that, if he had been alive, he would never have agreed to show up and perform with Timberlake. (To be fair, if Prince was alive, Pepsi probably wouldn't have been asking Timberlake, but I digress.)
Check out the whole performance, including the tribute.
Twitter was torn. There were those who felt that Timberlake delivered a solid show. And since this was Minneapolis, it wasn't about old beefs, it was about honoring a son of the city and a great artis. And on that front, many fans believe JT delivered.
Others were less kind, using Prince's song titles to express their displeasure.
Others judged Timberlake against past performances and decided he earned a solid B+.
It's better than not making the Top 10 at all, but despite the pulling out of songs like "SexyBack" and "Can't Stop the Feeling," which are both a huge crowd pleasers, this was no Beyoncé, or Bruno Mars, or even Madonna. He only outranked the Black Eyed Peas.
Others were just disappointed that Andy Samberg didn't pop up and turn the performance into a Lonely Island joke from Saturday Night Live. (It would have been appropriate, since ex-SNL alum Jimmy Fallon introduced Timberlake's performance.)
Perhaps we will get luckier and see a Lonely Island reunion later this evening when Timberlake stops by The Tonight Show Starring Jimmy Fallon, which airs live after the Super Bowl, This Is Us, and the local news.