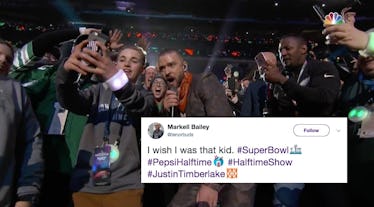 This Kid Took Pics With Justin Timberlake During His SB Performance & Twitter Can't Deal
NBC
Justin Timberlake just gave the 2018 Super Bowl halftime show everything he had. He sang all the hits, delivered all his signature dance moves, and even jumped into the audience for a bit. One person we all couldn't take our eyes off of was the kid during Justin Timberlake's Super Bowl performance. I think extreme jealousy was the emotion we were all feeling. He was right in the action, and got the selfie of a lifetime.
Whether he was placed perfectly by the Super Bowl gods or just happened to win the seat lottery — this kid became a pivotal part of Timberlake's halftime performance. According to Twin Cities, 13-year-old Ryan McKenna is the lucky tween who snagged a spot in J.T.'s performance. He told the local paper,
It's been so crazy. I don't even know what to think. All my friends have been texting me and stuff. It's insane.
He continued,
My phone is almost dead. I've gotten so many notifications. I've got like 36 Snapchats, like 21 DMs, and like 150 follower requests on Instagram.
That was literally less than two hours after he appeared on television. Reportedly, he's already slotted to appear on Good Morning America on Feb. 5. #Blessed
McKenna appeared during the last song Timberlake sang in his Duck Dynasty gone wild suit and kerchief, "Can't Stop The Feeling." Obviously, this is a song that makes people want to dance. Besides showing off his impressive vocal range, Timberlake proved he's also a track star because he made it up to the stands in record time.
Then, the young man had the most memorable moment he will probably ever have in his life. Graduating from college? Kids? First job? NAH, IT WILL ALWAYS BE THE TIME HE DANCED WITH JUSTIN TIMBERLAKE AT THE SUPER BOWL.
Honestly, the internet can be a cruel place. However, it seems like we all came together to help this kid celebrate an awesome moment.
In case you're wondering, here is the most important selfie of 2018. GOOD JOB, KID. YOU'RE A NATIONAL HERO.
This kid is obviously living his best life. I would like a full update when he returns to school on Monday. He should be class president or something.
I had literally no idea what to expect from Justin Timberlake and his halftime performance. Besides the kid, there were no live surprise guests. IT WOULD HAVE BEEN SO EASY TO HAVE THE REST OF THE MEMBERS OF N*SYNC COME OUT FOR ONE SONG. That's none of my business, though.
Timberlake did pay a pretty amazing tribute to the late and great Prince. It was really appropriate and emotional since the Super Bowl was happening in Prince's hometown of Minneapolis, Minnesota. Timberlake sang Prince's iconic song "I Would Die 4 U" while a giant projection of Prince played in the arena.
The Super Bowl squad even lit up the entire city of Minneapolis with purple lights.
The lyrics to "I Would Die 4 U" read,
I'm not a woman/I'm not a man/I am something that you'll never understand/I'll never beat you/I'll never lie/And if you're evil I'll forgive you by and by, cause...
The chorus continues,
You - I would die for you, yeah/Darling if you want me to/You - I would die for you
The second verse remains just as sultry as the first.
I'm not your lover/I'm not your friend/I am something that you'll never comprehend/No need to worry/No need to cry/I'm your messiah, and you're the reason why, cause...
Finally, the bridge will be stuck in your head for the entire week.
You're just a sinner I am told/Be your fire when you're cold/Make you happy when you're sad/Make you good when you are bad/I'm not a human/I am a dove/I'm your conscious/I am love/All I really need is to know that/You believe
Overall, Timberlake did a great job with his performance time during the 2018 Super Bowl. He sang "Filthy," "Rock Your Body," "Sexyback," "I Would Die 4 U," "Suit And Tie," and "Can't Stop The Feeling" — what more can we ask for?
He was definitely working his Super Bowl booty off for the performance. Thank you for your music, Justin. More importantly: Thank you, Ryan McKenna, for giving us hope that good things can happen when we least expect it (or while having really great seats at the Super Bowl).
Check out the entire Gen Why series and other videos on Facebook and the Bustle app across Apple TV, Roku, and Amazon Fire TV.