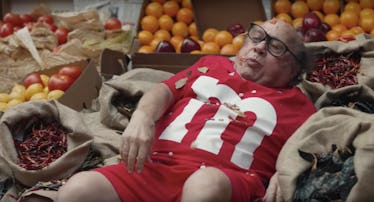 Danny DeVito Plays An M&M In This Super Bowl Commercial & It's Hilarious
In the realm of Super Bowl commercials, there are a few brands never fail to come through with some really stellar ads. Among Budweiser's "Lost Dog" commercial, and Wonderful Pistachios' Stephen Colbert clips, there lies M&M's various goofy adventures, which often feature beloved M&M characters alongside famous celebrities. And based on the clips the company just released, we're extra excited for this year's M&M's 2018 Super Bowl commercial. We'll try not to give too much away, but let's just say it involves renowned It's Always Sunny actor, Danny DeVito.
On Jan. 29, our favorite colorful chocolates finally unveiled their much-anticipated Super Bowl ad before its debut during the Super Bowl LII on Feb. 4. The 30-second clip tells a story about how our beloved M&M's characters survive while living in a world full of M&M-hungry people. It sounds a little dark, but trust me, it's definitely a laugh. The scene starts with the brown M&M, Ms. Brown, struttin' her stuff next to red M&M, who is better known as Red. Red is sick and tired of his role in society, aka, the absolute lowest on the food chain — but upon finding a lucky penny, he pulls a "Pinnocchio" and essentially wishes to be a "real boy."
Red's wish does come true, however, he turns into Danny DeVito, to which Ms. Brown responds, "you're still short and bald." Nevertheless, Red, in the form of DeVito, is filled with excitement about finally being human, so he proceeds to go around asking if anyone wants to eat him. One of the people he asks is actually played by YouTube celeb, Todrick Hall, and his answer is a hard "no." Upon celebrating his luck, DeVito gets hit by a truck, and ultimately lands smack dab in a produce stand. Classic DeVito.
Allison Miazga-Bedrick, M&M's Brand Director, opened up in an online press release about her inspiration for the ad. She also revealed why they chose Danny DeVito as their spokesperson, and why they also made sure to cast YouTube star, Todrick Hall. Miazga-Bedrick said,
When casting for a human that embodies the personality of our Red M&M'S spokescandy, we were looking for someone who is known for having a sarcastic sense of humor and know-it-all wit – Danny DeVito was the perfect human match. We hope our fans will be entertained by how we bring Red together with an iconic celebrity in a way that's never been done before. We (also) often collaborate with social influencers to create and share branded M&M'S content in their own colorful and fun way, This time, we flipped our approach and surprised Todrick Hall's fans with an unexpected appearance in our Super Bowl LII commercial.
Prior to the release of the full ad, M&M's came out with a teaser to introduce their newest spokesperson, Danny DeVito. In the teaser, DeVito is basically just floating around in a pool of chocolate. TBH, it was a classic and hilarious Danny DeVito moment. This will also air during the Super Bowl pre-game show, because there's no such thing as too much chocolate... or too much Danny DeVito.
If you'll actually be in Minneapolis for the game, there's going to be a Twitter-activated M&M Brand vending machine, starting on Feb. 3. Not only will it showcase the new ad, but it'll also give tastes of some classic M&M's chocolates. So if you weren't already planning on going to Minneapolis for the game, now you might actually have to.
Check out the entire Gen Why series and other videos on Facebook and the Bustle app across Apple TV, Roku, and Amazon Fire TV.