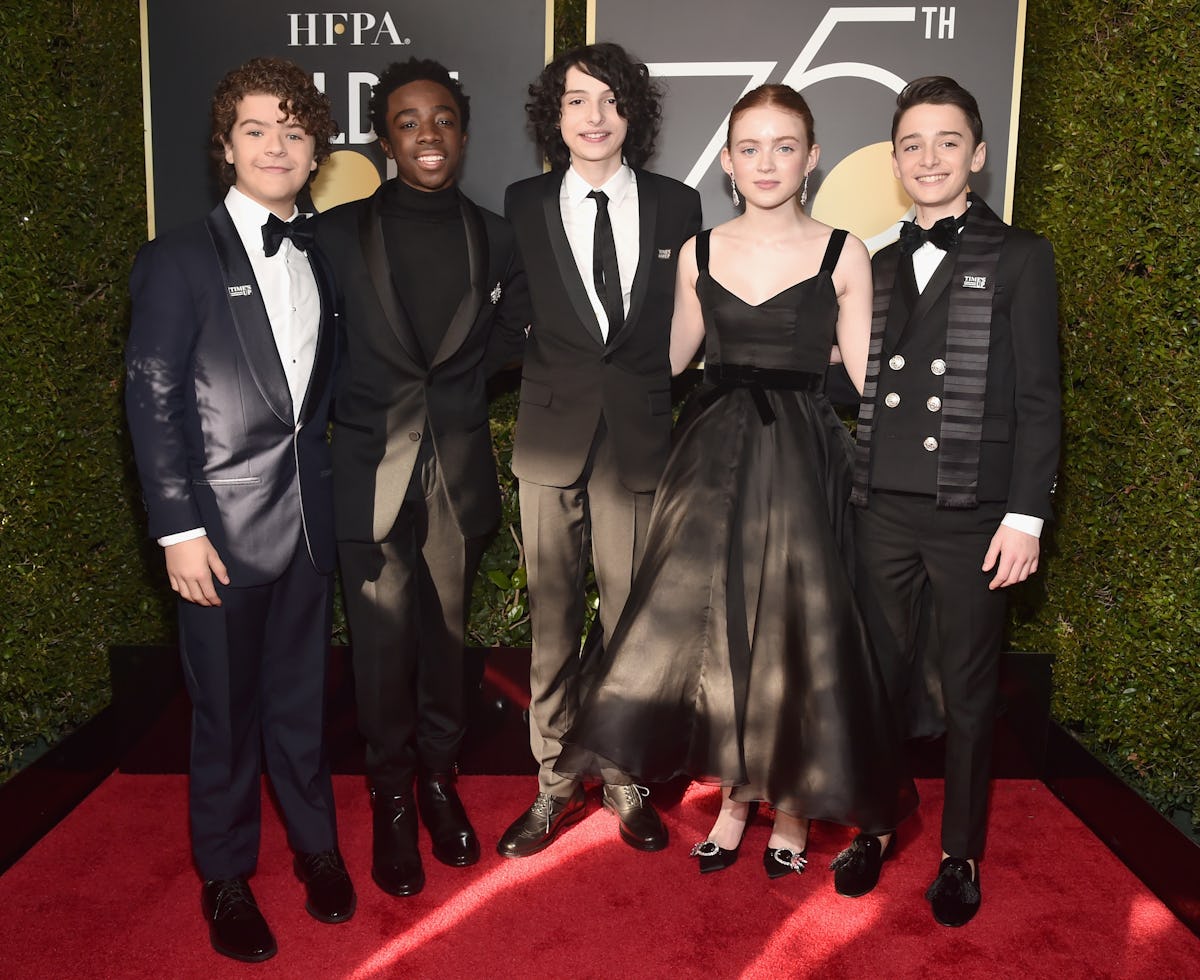 'Stranger Things' Cast Wearing All Black To The Golden Globes Is Everything
Alberto E. Rodriguez/Getty Images Entertainment/Getty Images
Alert! Some of the youngest and most-loved red carpet stars have arrived to the awards show du jour! Their looks are not only uber chic, but wise beyond their years. The Stranger Things cast wearing all black to the Golden Globes as a symbol of sartorial protest against sexual harassment proves that age is just a number when it comes to getting involved in important issues. A brighter future is indeed ahead!
To recap, attendees of this year's Golden Globes are wearing all-black as a symbol of unity to state that sexual harassment within Hollywood and beyond will not be tolerated anymore. After the horrendous assault accusations that surfaced against some of the entertainment industry's most prominent players (Harvey Weinstein, Kevin Spacey, and Louis C.K. are members of the way-too-long list of names), a movement to condemn their actions and the silencing of harassment victims arose.
The powerful #MeToo social media campaign was born, and on New Year's day, a group of 300 women from within the film industry vowed to help halt systemic sexual harassment by launching the Time's Up initiative and legal defense fund. The initiative was announced in an open letter that appeared in the The New York Times, which stated:
Now, unlike ever before, our access to the media and to important decision makers has the potential of leading to real accountability and consequences. We want all survivors of sexual harassment, everywhere, to be heard, to be believed, and to know that accountability is possible.We also want all victims and survivors to be able to access justice and support for the wrongdoing they have endured. We particularly want to lift up the voices, power, and strength of women working in low-wage industries where the lack of financial stability makes them vulnerable to high rates of gender-based violence and exploitation.
Industry insiders — from actresses and actors to directors and producers —have therefore been encouraged to wear black to this year's Golden Globes as a visual statement against sexual assault. Reese Witherspoon, a founder of the Time's Up initiative, also had "Time's Up" pins made that certain stars will wear to convey the same message.
Knowing this, you can probably understand why it's so phenomenal that the cast of Stranger Things, which is largely composed of young people, showed up in all black looks. Not only does it prove that they want use their platforms to stand up for what they believe in, but that you're never too young to get involved in a cause you care about and speak up about it. They are saying that they, the future of Hollywood, vow to end the inexcusably abusive culture of sexual harassment and misconduct that's poisoned the entertainment industry and beyond. And we are so here for it.
Finn Wolfhard (Mike), Noah Schnapp (Will), Gaten Matarazzo (Dustin), and Caleb McLaughlin (Lucas) are all wearing varying tuxedos, while Sadie Sink (Max) is wearing a '50s-esque midi dress with a full A-line skirt. Gaten, Finn, and Noah are also wearing "Time's Up" pins, which makes me love them even more (is that possible?!).
Earlier today, Millie Bobby Brown, who stars in Stranger Things as Eleven, the badass teen with psychokinetic abilities, posted a photo to her Instagram story revealing that she, too, would be wearing black to the awards show. It was a mirror selfie in which she wore a robe, and and over which she'd included "Time's Up" in white text.
While it's not surprising to see young people getting involved in important issues (I truly believe that millenials and Gen Z-ers are some of the wokest and most politically active generations of young people ever), it is certainly heartening and inspiring.