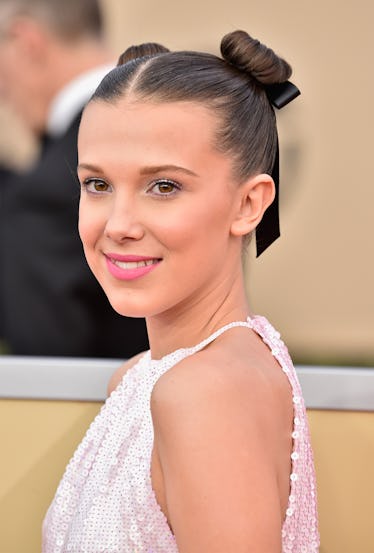 The 'Stranger Things' Cast On The SAG Awards Red Carpet Will Absolutely Delight You
Frazer Harrison/Getty Images Entertainment/Getty Images
Stranger Things achieved cult-favorite status seemingly hours after its first season debuted on Netflix, and the cast has been making adorable yet epic appearances on red carpets ever since. The Stranger Things cast's 2018 SAG Awards red carpet looks are no exception, as the most lovable teenage actors continue to out-dress their competition.
Stranger Things is nominated for four SAG awards this year: Millie Bobby Brown (Eleven) is nominated for Outstanding Performance by a Female Actor in a Drama Series, David Harbour (Chief Hopper) is up for Outstanding Performance by a Male Actor in a Drama Series, and the entire cast is nominated for Outstanding Performance by an Ensemble in a Drama Series and Outstanding Action Performance by a Stunt Ensemble in a Comedy or Drama Series.
Half the fun of Stranger Things is that it takes place in the '80s. The characters ride around on old-school bicycles and communicate via walkie-talkie (feeling very grateful for my iPhone right now). They also dress in that decade's hottest corduroys and graphic tees, which makes it even more exciting to see the crew off the show in 21st Century fashions.
The entire cast killed it on the Golden Globes red carpet, and the fact that they all dressed in black and wore Time's Up pins made it that much more superb. Millie Bobby Brown is my current girl crush so her look was my personal favorite, the girl is 13 going on 30 for real.
As I try to erase the memory of my own scarring awkwardness at 13, but inevitably relive it, the Stranger Things cast's red carpet looks can provide some much needed emotional relief.
Millie Bobby Brown (Eleven)
Millie Bobby Brown is wearing a pink Calvin Klein dress designed by Raf Simons for the label and white low-top Converse sneakers to the SAG Awards. Brown's style is already iconic but she continues to remind us she continues to be a trendsetter. I mean, would you think to wear sneakers to a black-tie event? I certainly wouldn't, but Brown can wear whatever she wants because she is only 13 and already a star.
Sadie Sink (Max Mayfield)
Sadie Sink is one darling ginger. Her character Max is a serious tomboy but Sink is her own brand of fashion here in her beaded, white tea-length dress. Sink's dress and accessories are Chanel and her hair is pulled back in a sleek braid, courtesy of Ryan Richman for OGX.
Gaten Matarazzo (Dustin Henderson)
Dustin has been my favorite character ever since he defended Eleven by yelling, "She's our friend and she's crazy!" Gaten Matarazzo is equally adorable, especially in this classic black-and-white tux.
Caleb McLaughlin (Lucas Sinclair)
Trendsetter alert! Lucas looked the cutest when the group dressed up as Ghostbusters characters for Halloween, but Caleb McLaughlin looks even sharper in his mismatched suit. McLaughlin is seriously killin' it in those plaid pants and white jacket, and the maroon, velour bow tie low-key matches his patent-leather loafers.
Noah Schnapp (Will Byers)
Will Byers has had a tough go, but Noah Schnapp is no victim to the upside down. This dark green, Stella McCartney velour tux is on fleek, and that peacock and pheasant feather Brackish bow tie is the cherry on top.
Natalia Dyer (Nancy Wheeler)
Natalia Dyer stole everyone's hearts when she started dating IRL Jonathan Byers (Charlie Heaton) and she continues to win me over with this Dior gown printed with astrological motifs.
Joe Keery (Steve Harrington)
I'm still getting over Joe Keery's luscious AF hair. His all black suit doesn't hurt to look at either, though. I almost didn't even notice he's not wearing a tie.
Dacre Montgomery (Billy Hargrove)
Billy Hargrove is more than mildly terrifying on the show but Dacre Montgomery is just your typical Hollywood heartthrob, amiright? Montgomery is forgoing a tie as well, I guess the younger generations are bringing some street-style vibes to the red carpet.
Winona Ryder (JoyceByers)
Winona Ryder doesn't get much of a chance to look very glam as her character Joyce Byers but her look tonight proves she knows how to work it off-screen.
David Harbour (Chief Jim Hopper)
Hopper (right) is everyone's favorite pseudo-dad and as good as David Harbour looks in that sheriff's uniform, this tux might win out.