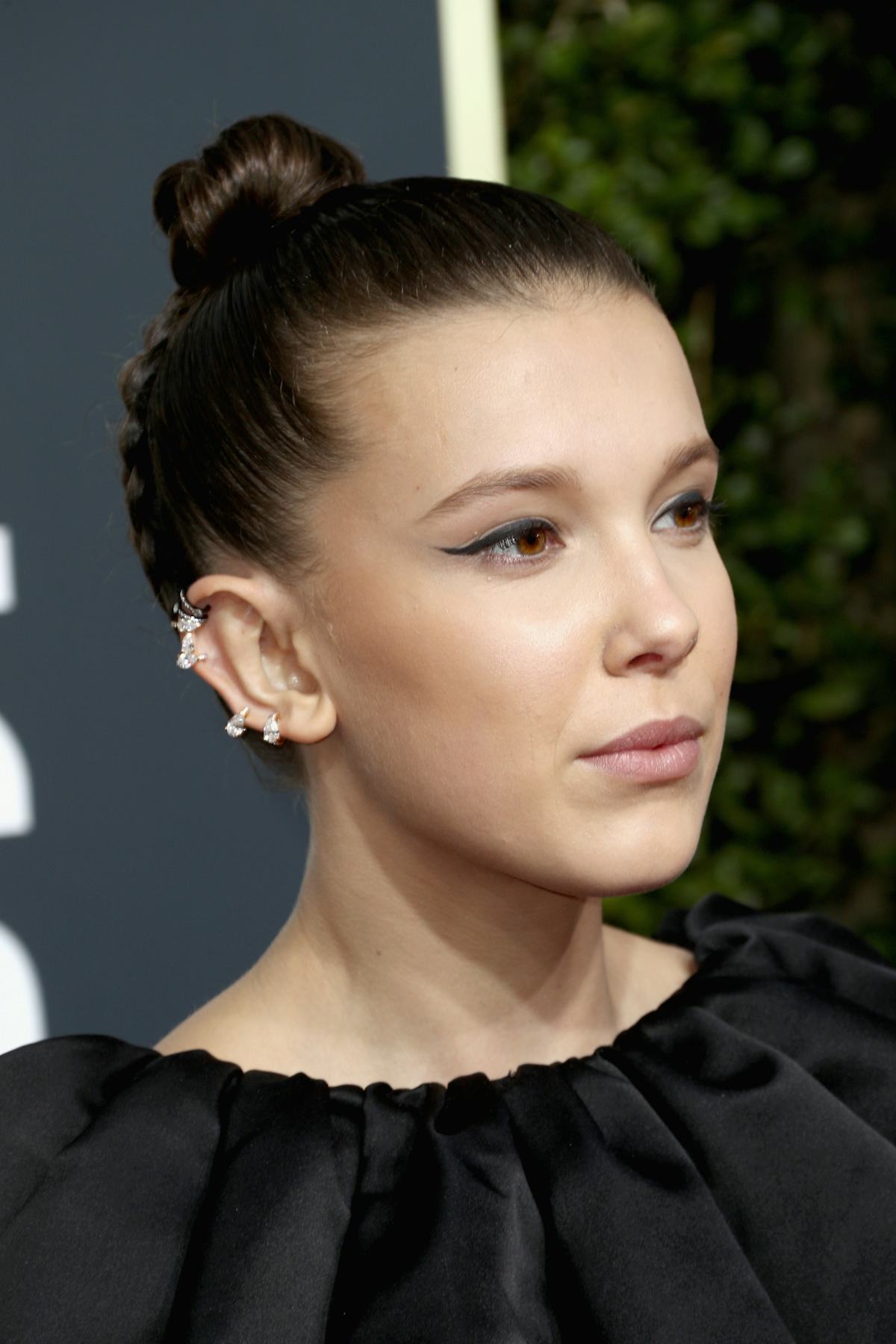 Millie Bobby Brown's Golden Globe Dress Scores An Eleven Out Of 10 & She Knows It
Frederick M. Brown/Getty Images Entertainment/Getty Images
Eleven's pink collared dress in Stranger Things became somewhat iconic after Season 1 of the show absolutely blew up on Netflix. It seemed like every third person was sporting a retro bubblegum frock, Eggo waffles box clutch, and nosebleed for Halloween in 2016. But Millie Bobby Brown's 2018 Golden Globes dress is so good, it just might take over as the sci-fi darling's most memorable look yet.
Although she'd appeared in numerous shows including Grey's Anatomy, Modern Family, and Once Upon A Time prior to Stranger Things, it was the last project that really put Millie Bobby Brown on the map. People (including me!) went absolutely nuts for her as Eleven, the brilliantly offbeat wonder kid with psychokinetic abilities who helps her new friends try to save one of their best buds — and, eventually, the world as a whole (casual) — from the terrors of the Upside Down. Any 13-year-old girl who's dedicated enough to get a buzz cut for their role and who can hold their own while acting alongside Winona F'ing Ryder is a bonafide star in my book!
The who's who of Hollywood seem to agree: Brown has earned 12 nominations for her work as Eleven thus far, five of which she's won. With a recently wrapped second season of Stranger Things and confirmed third season on the way, there are bound to be many more nominations where those came from.
Needless to say, the teen has walked her fair share of red carpets... and she has absolutely slayed every single one. I'll get to her 2018 Golden Globes dress in a hot second, but can we take a moment to appreciate the age-appropriate glamour that is Brown's style?! Last year, she wore a stunning silver dress by Jenny Packham to the Globes that looked like wearable tinsel; her custom Emporio Armani gown for the 2017 SAG awards was the red dress of my Grecian goddess dreams; and the Calvin Klein By Appointment tutu she sported on the 2017 Emmys red carpet was one of the gutsiest looks at the event.
The girl can rock literally any style, and the fashion world has taken notice. In January of 2017, she appeared in the first campaign for Calvin Klein's couture line, By Appointment, and is currently the face of Converse. According to InStyle, she's also been "courted by brands such as Coach and Louis Vuitton," which are two of the coolest names in the game right now. In short, Brown is on sartorial fire.
So it's no surprise that her Globes look for this year is, too.
We knew it would be black (earlier today, Brown posted a bathrobe selfie to her Instagram story earlier with the word's "Time's Up" scrawled across it, indicating she's be wearing in the all-black dress code to protest sexual harassment), but we didn't know it would make her look like a gorgeously witchy butterfly! Its sleeves look more like miniature wings sprouting out from her shoulders, which fall down in exaggerated ruffles to the hem of the silky black mini dress. The deep V in the back is super elegant and allows her braided updo to really shine. A few diamond earrings and matching silver kitten heels complete the look.
It's unique, playful, and fitting for a 13 year old, which isn't surprising considering everything Brown wears for a red carpet has to be approved by her father himself. According to InStyle, "She works with a stylist to find 'age-appropriate' looks that are then run by an extensive list of guardians. 'Everything I wear has to go through every person on my team,' she says. 'It has to go through my mum first. If she approves, it'll go to my agents, and then, obviously, the last stop is my dad — and if he doesn't like it, then I'm not wearing it. It's as simple as that.'"
Seems like good taste runs in the family!