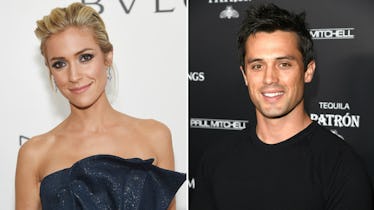 Stephen Colletti Left A Comment On Kristin Cavallari's Pic & 'Laguna Beach' Fans Can't Deal
Jamie McCarthy/Jason Merritt/Getty Images Entertainment/Getty Images
If you ever watched Laguna Beach, then you'll be aware of the one thing that still lives on to this day: STE-PHENNNNN!!! Of course, I'm talking about Kristin Cavallari and the iconic way she yelled her high school ex-boyfriend and Laguna Beach co-star, Stephen Coletti's, name. Now, the two have grown up and gone their separate ways, but luckily for us, we can continue to live vicariously through Kristin Cavallari with her new reality show called Very Cavallari on the E! network. And Cavallari has been gifting us with some behind-the-scenes footage from her show on social media, which is amazing in itself, but it's Stephen Colletti's comment on Kristin Cavallari's photo that has made all of my Laguna Beach dreams come true, y'all.
On July 2, Cavallari took to Instagram to share a video of herself horsing around while filming for her new reality show. She's speaking into a walkie-talkie while sitting in a car, and says, "Hello, Stephen, this is Kristin. Stephen for Kristin," which is a phrase used by truckers while traveling on the road.
But an off-camera crew member (or friend? Or maybe both?) starts laughing, telling her, "It's the other way around — Kristin for Stephen."
Cavallari immediately starts laughing, adding, "I'm literally going to pee my pants." Not going to lie, the way she's moving her legs makes it actually look like something she might be doing:
The clip on its own is pretty damn wonderful. Not only do we get to see Cavallari joking around, but we also get the knowledge that Stephen is still on her mind after all these years!
And apparently, Stephen Colletti is still keeping tabs on his high school sweetheart, because he commented on the video, writing, "Go for Stephen."
CAN YOU BELIEVE OUR LUCK AT WITNESSING THIS EXCHANGE?
Instagram users commented on her video, talking about how the way Cavallari used to yell Colletti's name is basically iconic. One user wrote, "lol!! Till this day I yell "steeeephen!!!!," while another user commented the name more phonetically, writing, "Steevaaaahn."
Others were more focused on the fact that Colletti himself actually responded. One fan wrote, "Stephen colletti commented I can't," while another wrote, "UM @stephencolletti comment is everything."
Let's all be real: It's nice to see that Kristin Cavallari and Stephen Colletti can both be light-hearted with each other after all these years, considering the amount of turmoil that went on with their relationship during the filming of Laguna Beach. It was, in a word, dramatic.
So. Much. Drama.
But now that Cavallari has matured from her Laguna Beach days, we'll see her new reality show in a slightly different light — but like, not that different, since ~situations~ seem to follow her wherever she goes.
Very Cavallari follows Cavallari's journey as she moves to Nashville with her family and opens a store for her lifestyle brand, Uncommon James. And, while we know the show itself will focus on her relationship with her husband, former NFL player Jay Cutler, fans will also see some drama 2.0 with her store's employees (who are nostalgically making me think of a young Cavallari working with Lauren Conrad and Whitney Port).
Check out the trailer below and see for yourself:
In a preview video of Very Cavallari, Kristin touches upon the drama that her staff will create, saying, "I started building this lifestyle brand. I have the craziest staff. Of course, there's going to be drama. Of course, there's going to be hookups ... it's going to be a wild ride."
Um, yeah. I believe it. Here's hoping Kristin knows that what happens in Nashville clearly won't stay in Nashville now that she's back on the small screen again.