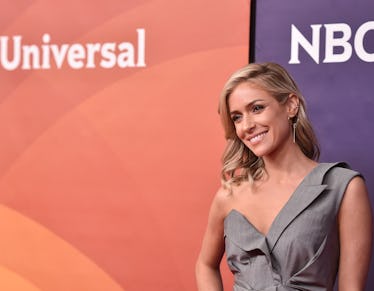 This New Trailer For 'Very Cavallari' Shows How Far Kristin Has Come Since 'Laguna Beach'
Alberto E. Rodriguez/Getty Images Entertainment/Getty Images
There are a few things in life that will always be true: It's never too early for a mimosa, pizza is the best drunk food, and Kristin Cavallari will always be entertaining. Clearly, E! knows this, because the network is giving former Laguna Beach star her very own reality show called Very Cavallari. As a huge fan of The Hills, I've been pumped about Kristin's reality show since E! first announced the news in early April, but I'm not expecting a reboot of the classic MTV series. The new trailer for Very Cavallari shows how far Kristin has come since Laguna Beach, so you won't see Kristin destroying relationships or hanging out in Malibu this time around. But don't worry, because Very Cavallari still promises plenty of drama. It's Kristin, remember?
Very Cavallari follows Kristin as she moves to Nashville with her family and opens a flagship store for her lifestyle brand, Uncommon James. The show will focus on Kristin's relationship with former NFL player Jay Cutler — he's featured prominently in the trailer — but the real drama falls to Kristin's young Uncommon James employees. Kristin has passed the torch to these young ladies, so expect plenty of sh*t talking and back-stabbing as they bring their personal baggage into the store. Basically, these girls have the same kind of jobs that Lauren, Whitney, and co. had on The Hills: They're supposed to be working, but they're also not really supposed to be working, you know?
Now that she's in her 30s, Kristin finally gets to be the boss — and as the trailer shows, she's not messing around. "This is a really big deal for me. We're literally opening the store in two weeks" she says. Later, one of the girls faces her classic Kristin wrath (just because she's a mom doesn't mean she's totally outgrown her old habits). "I'm running a business. I'm not just going to hire your friend just because you guys told her she could have a job," she tells a scared-looking redhead. Ouch. Didn't you watch the final few seasons of The Hills, girl?
Kristin may seem like she has everything figured out, but Very Cavallari catches her at a time of vulnerability: She's just moved to Nashville, where she doesn't know many people and is new to the business community. Kristin leans on Jay for support, but after five years of marriage (and three kids) the initial honeymoon phase has ended. "Jay is a different breed, writing me love emails and love letters. I don't know what happened," she says in the trailer. "You decided to go to bed at 8:45 every night," Jay jokes in response. Maybe we'll see an elaborate date night that helps the couple rekindle their romance?
One thing fans won't see on Very Cavallari? Kristin and Jay's kids. The star told E! News that the show won't feature their three children — Camden, 5, Jaxon, 4, and Saylor, 2 — on camera because she doesn't feel like it's right to choose that lifestyle for them:
I don't even really show my kids on social media. They're 5, 4 and 2. When they're old enough to make that decision, that's one thing. For right now, I just want to keep them kids.
Awww, that's super sweet. Motherhood has clearly changed Kristin, and even though she seems pretty stressed out in the trailer, she has only great things to say about the impact her kids have had on her life:
I think I changed the most when I became a mom. It really softened me as a person and I have so much more love in my life. I'm the happiest I've ever been. I think going into reality TV and having a family to really kind of ground me is probably the best.
Very Cavallari premieres at 10 p.m. ET Sunday, July 8 on E!, so set your DVRs now!