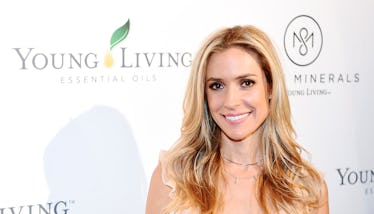 The 'Very Cavallari' Trailer Is Here & 'Laguna Beach' Fans Won't Be Disappointed
Fred Hayes/Getty Images Entertainment/Getty Images
If you're desperate for a new reality show to binge watch, E! has just the thing: Very Cavallari, a new show that follows the life of former Laguna Beach and The Hills star Kristin Cavallari. Things may be a little different for Cavallari now than they were during her Laguna days — she has kids, a husband, and goals much larger than destroying Lauren Conrad's love life — but the Very Cavallari trailer promises plenty of drama and hookups, so fans of the reality TV villain won't be disappointed. Get ready to say WWKD (What Would Kristin Do) all summer long, because Very Cavallari is about to be your new obsession.
Very Cavallari follows Cavallari as she adjusts to life in her new home, Nashville, with her husband, Jay Cutler, and their three kids. "Very married, very ambitious, and very boss!" the trailer teases. Expect a heavy dose of Kardashian-style family drama, especially with Cutler, who just finished a long career in the NFL, and some classic "how do I balance my personal life with my mom life" tension — two things that make any reality show ah-mazing. Maybe, if we're lucky, Cavallari will also give us some behind-the-scenes dirt about her time on Laguna Beach and The Hills. Even all these years later, I still live for drama about The Hills, so you know I'll be keeping my ears perked for even the smallest bit of gossip. And who does gossip better than Cavallari?
Apart from showcasing her new role as mom and husband (rather than sh*t starter, Cavallari's unofficial role during her time on MTV), Very Cavallari will follow the reality star as she opens a brick-and-mortar store for her lifestyle brand, Uncommon James. Enter the supporting characters, who will fill out the show's time with messy love triangles, hookups that make Cavallari reminisce on her past life, and squabbles about the store's opening. "I started building this lifestyle brand," Cavallari says in the trailer. "I have the craziest staff. Of course there's going to be drama, of course there's going to be hookups." While the trailer only briefly shows Cavallari's "crazy staff," there are at least three people you should expect to see on the show: Shannon, Cavallari's social media director, Brittany, the store manager, and Regan, the office manager.
Cavallari may not be new to reality TV, but she is new to the retail game. The star started Uncommon James in 2017 as a simple accessories line, but in the year since, the brand has grown to include home goods like salad tongs, dishes, and wine glasses (y'know, classic "lifestyle brand" stuff). The Nashville store will be the brand's flagship location, so even though the overall tone seems pretty easy, breezy, beautiful, there's a lot at stake for Cavallari. Add the stress of opening her first store to the stiff competition she'll face from well-established brands like Frye, Urban Outfitters, and even Reese Witherspoon's Draper James and you've got yourself one heck of a reality series.
Cavallari has moved around a lot because of Cutler's NFL career (the couple has lived in Chicago, Miami, and now Nashville since they were married in 2012), but she insists that Nashville is the family's final stop. In April 2017, Cavallari told People that despite the constant moves, relocating to Nashville "has always been the plan" and that she hopes to stay there "for a very long time, if not forever." She added:
Jay went to Vanderbilt [University], and actually the first weekend we ever hung out, we went to Nashville, and I fell in love with Nashville. So we actually bought our house, I think we had been dating for a year — we had just gotten engaged — and so we've had our house for about six years, and this has just always been the plan.
I wonder if Very Cavallari has always been the plan, too? Knowing Cavallari, the answer is probably yes.
Very Cavallari premieres on E! this summer.