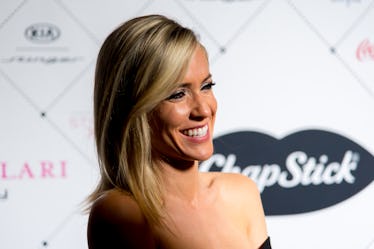 Kristin Cavallari Has A New Reality Show Coming To E! Because The Rest Is Still Unwritten
Roy Rochlin/Getty Images Entertainment/Getty Images
Rejoice, Laguna Beach fans, because your favorite reality villain just got her own E! docu-series. That's right: Kristin Cavallari, the woman who "stole" Stephen from Lauren on Laguna (and then kind of Brody on The Hills?), is getting her own show on E! titled Very Cavallari. When does Very Cavallari premiere? There's no official word on when viewers will be reunited with Cavallari, but expect the new series to be just a little different than the reality shows that made her famous.
According to People, Very Cavallari will follow Cavallari as she adjusts to life in her new home, Nashville. Cavallari has three kids — Camden, 5, Jaxon, 3, and Saylor, 2 — with her husband Jay Cutler, an NFL player, so things will definitely be different for Cavallari in front of the cameras this time around. But even though she's a mom now (gone are the days of catching Heidi and Spencer's bouquet and stirring up sh*t at Les Deux), don't expect Very Cavallari to be a total snooze fest: it's Kristin Cavallari, after all, so you know there will be some sort of drama.
Apart from exploring her family life, Very Cavallari will follow Cavallari as she launches a brick-and-mortar store for her lifestyle brand, Uncommon James. Cavallari started Uncommon James as an accessories brand in 2017, but the company has since grown to include home goods like dishes, salad tongs, and wine glasses. Her Nashville store is the brand's flagship location and opened in late March.
Like Dash Dolls or any of the Keeping Up With The Kardashian spin-offs involving the sisters' Dash locations, Very Cavallari will feature Cavallari's Uncommon James staff, as well. The E! series will specifically feature Cavallari's social media director, Shannon, the store manager Brittany, and office assistant Regan. According to People, Cutler refers to the Uncommon James staff as his wife's "minions," which suggests that the show will feature just the right amount of workplace drama. Eventually, someone is going to get fed up with being in Cavallari's shadow, and I can't wait to see what goes down.
The Uncommon James store is located in a particularly popular area of Nashville called the Gulch. The upscale neighborhood boasts some of Nashville's hottest restaurants, bars, and shops, so Cavallari definitely picked the right location for her boutique. In fact, her store will be neighbors with the flagship location of another popular celebrity brand: Draper James, Reese Witherspoon's clothing line.
While the transition to Nashville is definitely an adjustment for Cavallari, it's not her first big move. From January 2012, when she and Cutler married, to March 2017, Cavallari lived in Chicago, where Cutler was the quarterback for the Chicago Bears. Her husband was then cut from the Bears after eight seasons, but he re-signed with the Miami Dolphins for one season, so Cavallari packed up and headed to Florida in summer 2017. Then, in January 2018, Cavallari posted an Instagram suggesting that Cutler would not be returning to the Dolphins for the 2018 season. "The end of another chapter," she wrote.
After all these moves, the Cutler-Cavallari family has settled in Nashville for the foreseeable future. Cavallari told People that her family will stay in Tennessee "for a very long time, if not forever," and added that ending up in Nashville had always been their long-term plan.
Jay went to Vanderbilt [University], and actually the first weekend we ever hung out, we went to Nashville, and I fell in love with Nashville. So we actually bought our house, I think we had been dating for a year — we had just gotten engaged — and so we've had our house for about six years, and this has just always been the plan.
Awww. Even though Cavallari pretty much ruined any shot Lauren had at finding love during their time on Laguna, I'm happy that she ended up in such a great relationship. Like her fellow co-stars on The Hills, Cavallari has matured considerably since her time on the show — but not so much that she's done with reality TV forever.
And thank the TV gods for that, because Very Cavallari sounds like the perfect spring guilty pleasure.