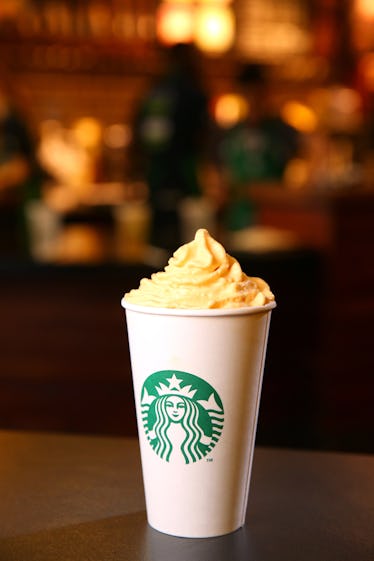 The Starbucks PSL Just Tweeted For The First Time In A Year, So It's Officially Fall
Starbucks
Hope you didn't get too attached to the beach, because Starbucks' Pumpkin Spice Latte's first tweet of 2018 means it's officially fall. While everyone hated to leave their summer reads and warm weather behind, at least there's PSLs to get us through it. Although, just saying, I'll still drink mine with sunnies on.
Store fronts are already swapping out their crop tops for knits and school supplies are spilling into every aisle, but nothing really signals the start of fall like the moment when Starbucks brings back their famous Pumpkin Spice Latte. On Wednesday, August 8, Starbucks' official PSL twitter account tweeted for the first time in a year, which means you don't even have to check your calendars — fall is pretty much here.
"Going offline for a while. Busy modeling for the #LeafRakersSociety Facebook Group," the message said. Oh, yes, if you didn't know already (which I know you did because you're already in line waiting for your PSL), the Pumpkin Spice Latte also has it's very own Facebook page called "Leaf Raker's Society." Well, technically it's a group for PSL devotees and fall enthusiasts, but either way I'm totally into it. Hey Starbucks, am I in?
While it's great to stay in touch with other PSL fans and know what The Real PSL (that's the official handle of the "real" Pumpkin Spice Latte ) is up to, I know what info you're really thirsting for: when will our beloved PSL return? The short answer is that there's no official date set yet, but it looks like it'll be sooner than you think. Last year the official PSL account waited until September 1 to tweet, and Starbucks brought back the pumpkin cheer on September 5. This first tweet from the account comes almost a month earlier, so that's gotta be a sign that PSL will come out to play earlier than last year, right? I mean, I already cashed that Venmo transaction I had sitting in my account from when a friend paid me two dancing lady emojis and six bucks for a frosé, so I've got the funds.
On top of the first PSL tweet coming early, word on the Internet is that various Starbucks locations have already gotten their hands on all the supplies to make the perfect Pumpkin Spice Latte. According to Business Insider, baristas have been posting pics of the "Pumpkin Spice Flavored Sauce" on Twitter and Reddit.
Business Insider also notes that baristas in the Facebook group have heard word that the official PSL launch date might be as soon as August 28. But — before you get your hopes up — that date has not been confirmed and is still just speculation.
Though the day the world finally gets its beloved PSL back has yet to be announced, we know that it'll more than likely be sometime in the coming month. In the meantime, make sure you're ready for fall and maybe start calculating just how many lattes you can afford to buy during a single pay period and still have enough for rent. Alternatively, anyone know if Starbucks is looking to hire? Asking for a friend.