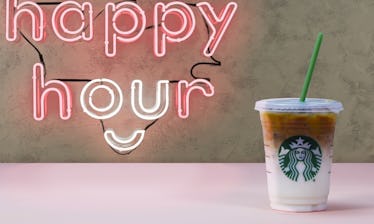 Starbucks Is Offering A Happy Hour Deal Today That You Don't Want To Miss
Starbucks
The most wonderful time of the week is upon us again. I'm talking about Starbucks' Happy Hour, of course. Come mid-Thursday afternoon, my morning up of coffee has subsided, and I'm usually ready for another jolt of caffeine. I just need a little something to get me to Friday, because hello weekend. Starbucks always comes through with a legit Happy Hour deal that perks me up every time. This time around, Starbucks' Happy Hour has latte & macchiato discounts that you don't want to miss.
Starting at 3 p.m. local time on Thursday, June 7, Starbucks customers can buy any grande macchiato or latte and score half off the original purchase price. This includes any grande-sized iced or hot macchiato or latte from Starbucks. With all of the new menu items from the Seattle-based coffee retailer, there certainly is no shortage of drinks to choose from. If you are on the go and in search of a quick fix, order up the Espresso Macchiato to throw back. Or, if you live in a hot climate (like I do), try out one of its iced lattes such as the savory and aromatic Iced Cinnamon Dolce Latte, or the tried-and-true sweet Iced Vanilla Latte to cool you down. You really can't go wrong with whatever espresso-based drink you decide to sip on.
If you are not sure what exactly the Starbucks' Happy Hour is, or what it entails, let me help you out. It's basically a great way to get your favorite Starbucks drinks at a discount a few times a month, and it almost always happens on a Thursday afternoon.
So you are not a member of Starbucks' Happy Hour program and you want to be. The good news is it's not too late to sign up so you can get 50 percent off of your next macchiato or latte on Thursday, June 7. There are two ways to do this.
First, you can sign up to become a Starbucks Rewards Member by creating an account on the Starbucks website. Once you've successfully signed up, download the Starbucks app. It is available on iOS and Android devices. Make sure to log in so Starbucks can send notifications to your phone prior to the start of each Happy Hour. This way you will never miss out on a deal. So considerate, right? Not that you need the reminder about a bargain this good, but it certainly doesn't hurt.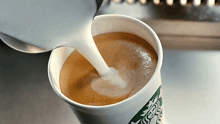 If you are not a Starbucks Rewards Member, don't panic. You can still get in on the Happy Hour deal. It is as easy as signing up to receive Happy Hour emails from Starbucks about its mid-day discounts. It takes 10 seconds to sign up for Starbuck' Happy Hour (OK, maybe slightly longer) — so if you haven't already registered, go on and do so now. It really takes no time at all. The June 7 Happy Hour starts at 3 p.m. local time at stores nationwide.
I can't espresso to you how excited I am about this particular Happy Hour deal, because it includes one of my all-time favorite Starbucks beverages: the Iced Caramel Macchiato. I usually save my free drink for this one (thank you, Starbucks rewards), but not this time. With 50 percent off the usual cost for my drink of choice, this is a deal that is too good to pass up.
If you are jonesing for this deal (unless you don't like coffee, then OK, fine), you should know that Happy Hour is only valid at participating Starbucks locations. Make sure you check with your local Starbucks store before you go.