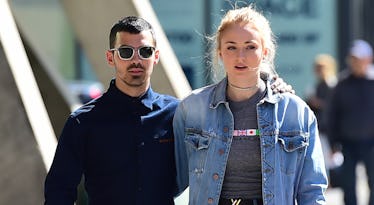 Sophie Turner's Engagement Ring From Joe Jonas Is So Unique
Sansa Stark is marrying a Jonas brother. Yes, you read that correctly. Sansa Stark, Lady of Winterfell, has chosen a husband, and that husband's name is Joe. Sophie Turner and Joe Jonas broke the internet on Sunday, Oct. 15 when they announced they were engaged via Instagram. Jonas and Turner each posted the same picture of the ring with the respective captions, "I said yes" and "She said yes." Speaking of the ring, Sophie Turner's engagement ring from Joe Jonas is a piece of ice so big, the Night King would be jealous. (I'm going to run out of bad Game of Thrones engagement puns if anymore of the cast members get engaged.)
I know the eighth graders in all of us are dying on the inside because of this and are seriously thinking about burning all of our Jo Bro merch, but honestly, Sophie Turner is my celebrity girl crush, so good for freaking Joe Jonas because his fiancée is everything. If you're wondering, "What the heck?! I didn't even know they were dating!" Well, they've been dating for a while. If you're wondering, "What the heck?! She's so young!" True, Turner is only 21, but that really doesn't matter if you're sure about the person you're marrying, so enough with your judgey tone. Sophie and Joe — Jophie, if you will — are getting married, and that's final!!
Make sure you have sunglasses on before looking at this ring.
I told you to put on sunglasses!!!
The ring is a massive teardrop-shaped diamond suspended between two thin bands that also have diamonds all around them. If I were to guess the price of it, I'd say it's probably as much as my college tuition at an out-of-state school.
Friends and family of the couple have been posting congratulations ever since the couple announced their engagement yesterday.
Nick Jonas tweeted the picture of the ring and said, "Ahh! Congratulations to my brother... and sister in law to be on your engagement. I love you both so much. @joejonas@SophieT."
Turner's Game of Thrones costar/best friend, Maisie Williams, commented on Turner's post saying, "Queen. I love you so much xo." Demi Lovato also commented on Jonas' post saying, "HUGE CONGRATS!!!!! Sooooo happy for the both of you!!!!" Lots of other celebs — and also Jonas' parents — have been showing their love for the couple, but the best part about all of this are the jokes on Twitter.
Some people are taking this time to mourn the death of their middle school hopes and dreams. Pack up the puffy paint, ladies. It's over. Joe's been bit by the love bug.
Some are joking that Jonas is basically Littlefinger part two. (Let's just hope things end better for him.)
But lots of people are really happy for the pair!
Ain't love grand? In case you didn't know, Turner and Jonas have been dating since the fall of 2016. They were reportedly introduced to each other through mutual friends and started dating soon after. Now, they share a puppy named Porky Basquiat.
He's a direwolf... uh... I mean husky. He is a husky. And he has his own Instagram account because obviously.
Turner and Jonas have been super private about their relationship ever since they got together, which is part of the reason why lots of fans are like, "What the heck?!" They didn't make their first red carpet appearance together until the 2017 Met Gala, but slayed it when they did. Turner said in an interview with Marie Claire in August that she doesn't plan on opening up about her relationship, but she is "very happy." She did admit, however, that dating a fellow celebrity comes with its share of frustration. She said,
You do feel like you're living in a fishbowl. It's frustrating [that] it's the most mundane things that make the news — how boring!
Turner's Game of Thrones costars Kit Harington and Rose Leslie just got engaged as well, and that wedding apparently might delay some filming for the final season of Game of Thrones. So Sophie and Joe, I now speak directly to you: Please, for the love of Ned Stark, GET MARRIED AFTER GAME OF THRONES IS OVER.