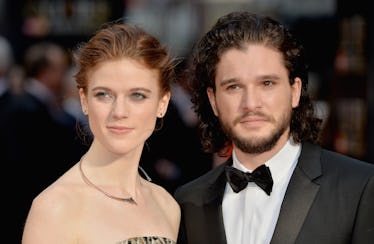 Rose Leslie Was Seen Wearing Her Engagement Ring From Kit Harington & It's Stunning
Anthony Harvey/Getty Images Entertainment/Getty Images
In case you missed it, Game of Thrones co-stars Kit Harington and Rose Leslie are engaged because it turns out Jon Snow may know a few things about romance. Harington and Leslie met while playing each other's love interests on Game of Thrones, and formally announced their engagement on Sept. 27 in the most British way possible: They put an excerpt in the upcoming marriages section of a newspaper. Ever since the news of their engagement was confirmed by said excerpt, people have been dying to see the ring. Luckily for us, Leslie was recently photographed wearing the ring while arriving at Heathrow Airport in London. And guys, Rose Leslie's engagement ring from Kit Harington might've just blinded me with its beauty. The couple's announcement in The Sunday Times read,
The engagement is announced between Kit, younger son of David and Deborah Harington of Worcestershire, and Rose, middle daughter of Sebastian and Candy Leslie of Aberdeenshire.
Have you ever heard of anything more classy? Honestly, I have not. This is straight-up posh, and I don't even know if I'm using that word correctly. Anyways, according to the photos, Leslie's ring appears to have a gold band and one giant oval diamond.
I don't even know if I want an engagement ring, but if I decide that I do, I'd probably be pretty pleased if it looked anything like this one:
Let's zoom in some more for the folks in the back.
Wowza, that's a great ring. Well done, Kit. Truly excellent work. Harington and Leslie have been together off-and-on since 2012 when they met and fell in love while filming Game of Thrones. In a recent appearance on The Jonathan Ross Show, Harington revealed he had this elaborate, romantic proposal all planned but then he got so nervous and excited to do it, so he proposed the night before. He said,
I did have some plans to do it. I was going to string up some lights in some trees and do all the romantic stuff, but we were in the country and we were sort of under this beautiful night sky and had a log fire burning and red wine and I sort of, I kind of blew my load early.
*Spits coffee onto keyboard.* EXCUSE ME, KIT HARINGTON? What did you do?! The actor followed up to that comment saying,
I was meant to do it the day after with the lights. What I meant to say was, I popped my question a bit early. Not blew my load.
Phew, glad we cleared that up. Even though the proposal didn't go exactly as Harington originally planned, asking the love of your life to marry you while sitting next to a bonfire under the night sky and drinking red wine sounds like pretty good way to do it. Pretty, pretty good.
Harington also revealed in his appearance on The Jonathan Ross Show that after he proposed to Leslie, he called Game of Thrones creator George R.R. Martin to tell him about the news and that the filming of the last season will have to accommodate his and Leslie's wedding. He said,
I rang him up and I said, 'I'm getting married and it's your fault actually' ... I think for the final season he is so stressed that he's reached that peaceful level. I was like, 'You need to factor in a Game of Thrones wedding by the way.' They [the cast] have all got to be there so the whole thing has got to shut down.
Please, for the love of all that is good in this world, let Sophie Turner and Maisie Williams be bridesmaids in this wedding. As for whether or not Harington and Leslie want a Westeros-themed wedding, that's going to be a hard no from them. When asked if we could expect to see a Game of Thrones-themed wedding for the couple, Harington laughed and said, "No. There is absolutely no chance of me convincing her of that."
Dang, he just shot that dream right out of the sky just like the night king shot down Viserion. I'm sorry, that was way too soon. I should've known better. Anyways, the moral of the story here is this: If you like it then you shoulda put a ring on Ygritte.