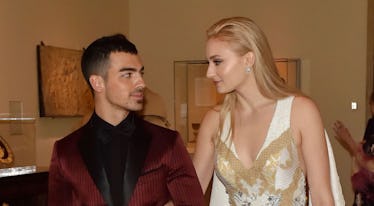 The Way Sophie Turner & Joe Jonas Met Is So Normal & We're Loving It
If you haven't already heard, Joe Jonas and Sophie Turner are engaged, and everyone is losing it. (That includes the pair's families, who are totally thrilled about the whole thing, according to social media.) Though the two have only been dating for a year, they seem super in love and so cute about it. And the story of how Sophie Turner and Joe Jonas met is even sweeter, because it's just so relatable.
The two actually met just like everyone else does. (No, not on Tinder.) The pair were introduced by mutual friends, according to an interview Turner did with Marie Claire in August. They apparently started dating in late October or early November, with the first sightings of the two as a couple showing up in November 2016. An Instagram shot also showed the duo as part of a giant crew hanging out on Halloween the same year, with Turner dressed as a rabbit and Jonas as a dog. As an official couple, though, they turned a little private — the two waited to make their first red carpet appearance together, showing up at the Met Gala as a couple in May 2017.
But the more private side of it is hella cute, too. In the same Marie Claire interview, Turner said that she met the Jonas parents on a family skiing trip — while he met hers at a pub in North London.
Now I'm imagining the two huge stars just casually sitting down to a pint in some dive bar, with Jonas awkwardly nervous about meeting the parents for the first time and maybe sticking his elbow in a puddle of beer on the table. Or Turner clumsily juggling skis while trying to give a firm handshake and polite eye contact. Because that's how normal people do. No matter how famous you get, it doesn't save you from being terrified about meeting The Parents for the first time.
Thankfully, it looks like Turner, at least, got in good with the 'rents.
After the adorable pair posted their announcement on the afternoon of Oct. 15 — matching Instas of their clasped hands with an honestly stunning engagement ring and the captions, "She/I said yes" — the outpouring of family praise was fast. Brother Nick Jonas retweeted the photo of the two's engagement announcement, sister-in-law Danielle chimed in with congrats, and both Jonas parents posted about how excited they were to have Turner join the family.
Um, adorable.
The Game of Thrones actress, 21, and DNCE frontman, 28, have been together just about a year, so it's a pretty quick engagement — but hey, when you know you know, I guess. The two have been making indications that they were getting serious of late, particularly when they adopted an (adorable) puppy back in early September. Because we all know when you get the dog, that means you're in it to win it, ring be damned.
And though Turner talked in the interview about meeting the parents, and the two were seen hanging out with younger brother Nick at a wedding in Malibu last year, there's no news on how Jonas met the real MVP of Turner's life — her Game of Thrones costar and other half of "Mophie," Maisie Williams.
Because the bestie vote is very important, you guys.
But the two seem so happy together, I feel pretty confident in saying that there's nothing to worry about and there's approval all around. Between the pics of Turner and Jonas messing with the paparazzi with karate kicks, chilling with their dog, or being all lovey-dovey at the Met Gala, they just seem super into each other.
So congrats to these two happy kids! May your Instas be always charming and meet-cutes be forever normal and sweet.