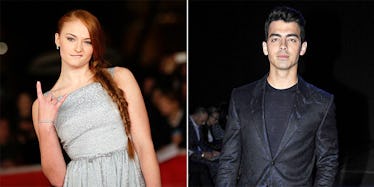 Sophie Turner Met Joe Jonas' Family, So Things Must Be Getting Serious
REX/Shutterstock
If you can cram a girlfriend-meets-the-family visit into the same weekend as a girlfriend-accompanies-you-to-a-wedding trip, you're basically on the express track to eternal love.
No pressure, Jophie.
Earlier this month, DNCE's Joe Jonas and "Game of Thrones" star Sophie Turner were spotted smooching hawrd at a Kings of Leon concert.
At the time, a fellow concertgoer told US Weekly,
Joe and Sophie arrived together before the show started ... He had his arm around her as they walked in, and then he was holding her before the show. Joe and Sophie kissed a few times and were talking and drinking soda.
Now, with cuffing season in full effect and Thanksgiving making everyone sleepy and vulnerable, the new couple shared its love with the world at a friend's wedding in Malibu over the weekend.
It might have been Matt and Margo's night, but Jophie stole focus in the ol' photo booth (THE MOST ROMANTIC SPOT, EVEN IF ALL YOUR FRIENDS ARE THERE).
Oh, and what's that? Joe's brother and delicious man Nick Jonas made an appearance in the booth as well, meaning Sophie met at least one brother.
She also met ZaZa, daughter of Jonas family friend Berndt Mader.
Everyone knows once you've got Za's approval, you're coasting.
It's likely Sophie met the remainder of Joe's family during a ski trip to Mammoth over the Thanksgiving holiday. Last Wednesday, November 23, Joe revealed on "Live With Kelly,"
Tomorrow everybody flies in together … We're going to pick our parents up and go skiing in Mammoth.
Shortly thereafter, Sophie posted a photo on Instagram of herself and a friend skiing at Mammoth Mountain Park.
There are no coincidences of this magnitude.
Sophie clearly spent the holiday pounding turkey and showing off her superior sense of balance with the Jonas family.
Sorry, ladies. Joe is officially off the market, once again.
Citations: Joe Jonas and Sophie Turner Get Goofy at Friend's Malibu Wedding (ET), US Weekly, US Weekly