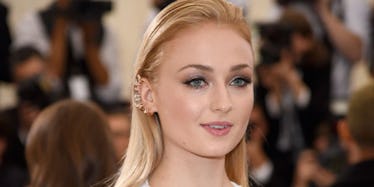 Sophie Turner Opens Up About Relationship With Joe Jonas In Candid New Interview
Dimitrios Kambouris/Getty Images
Game of Thrones star Sophie Turner has been dating Joe Jonas for a while now, and she's finally getting candid about what their relationship is like.
In an interview with Marie Claire, the 21-year-old actress revealed having a relationship in the public eye feels pretty exposing at times. She said, "You do feel like you're living in a fishbowl. "
She added, "It's frustrating [that] it's the most mundane things that make the news — how boring! There are really no other headlines?" Ouch. Solid media burn.
Turner also revealed she is "very happy" with Jonas, but wishes people would stop calling them "Jophie" and talk about "Mophie" instead — aka her celebrity couple name with Maisie Williams, who plays Arya Stark.
Guys! Turner and Williams are such close friends, she wants us to ignore her boyfriend and talk about her best friend instead!
BE STILL, MY BEATING HEART. SOMEONE REUNITE THE STARKS RIGHT NOW IMMEDIATELY.
When asked about how she feels when fans try to snag a picture of her, Turner said she really hates it, which is understandable.
Being the star of one of the most successful TV shows of all time must make privacy pretty difficult to catch. And not having that privacy from such a young age must be kind of awful.
She said,
I find it really rude, and I will be rude back. It's such an invasion of privacy. I could be out with my mum on her birthday and I will ask them to delete it. I would much rather them come up and ask for a photo. I will probably be fine with it… unless I look shit!
Turner also talked about the fact that she's spent a third of her life playing Sansa Stark on Game of Thrones. With the new season coming up in just 10 days, she said about Sansa,
I just completely gave everything to her, all of my emotions. I never used to cry when I was younger. Now I cry all the time – I am an emotional human being.
Sansa Stark has been through her own personal wringer on this show.
First, she witnesses her father's murder. Then she's abused by her fiancé. Then her fiancé's family marries her off to the uncle they all hate. Then she's married off to another abusive *sshole who makes everyone's lives a living hell, but especially hers.
And all the while, she hasn't seen any of her siblings in years, up until she reunited with her half-brother (or is he...) Jon Snow last season.
GIVE SANSA A BREAK.
There's one Sansa Stark scene in particular that has had fans outraged ever since it aired two seasons ago.
On the night Sansa marries Ramsay Bolton in Season 5, he rapes her. That scene didn't happen in the books, so fans were rightfully outraged the show had a very young main character sexually abused for no good reason.
Turner addressed this scene in her interview. In fact, she reveals the writer of the scene, Bryan Cogman, cried when he first told her about it.
She said,
He was sat there going, 'I am so sorry.' They had known me since I was 13 and they were like, 'This is so wrong.'
YEAH, IT WAS WRONG.
At least Sansa got her revenge and was able to watch as Ramsay was eaten by his own dogs at the end of last season. JUSTICE HAS BEEN SERVED, YOU F*CKING *SSHOLE.
Game of Thrones Season 7 premieres Sunday, July 16, on HBO.
Get. pumped.