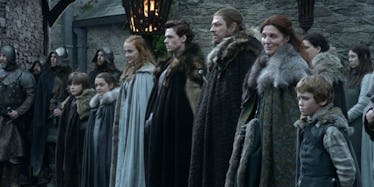 New Photo From 'Game Of Thrones' Set May Mean A Stark Family Reunion Is Coming
HBO
We're still the better part of a year away from the premier of the seventh season of "Game of Thrones," but that doesn't mean folks aren't doing everything in their power to try and get the inside scoop on what's going to happen in the penultimate season of the HBO hit.
Last season, the entire world melted when Jon Snow and Sansa Stark were finally reunited at Winterfell, yours truly included.
At last, at least a tiny piece of the Stark family was made whole again. Well, a recent photo from the set of season seven of "Game of Thrones" has many fans thinking another Stark reunion is in the cards.
Tuesday, "GoT" fan site "Watchers on the Wall" brought attention to a photo of Arya Stark (Maisie Williams) and Bran Stark (Isaac Hempstead Wright) appearing to get ready together in the same trailer.
The caption for the above photo reads:
In the newest photos, we see Isaac Hempstead Wright, who plays Bran Stark on 'Game of Thrones.' He was also at the studios that day, and was in the makeup trailer with Maisie. It does not look like he was filming with her at that moment, however; it looks like he was leaving the set, while she was still in costume and makeup. We can't rule out the possibility that they may have filmed together earlier, but it's unknown at this point. As you can see, by comparing photos, [Bella] Ramsey was indeed at the trailer when Williams and Hempstead Wright were, and the two actresses are wearing similarly styled northern costumes. At this point, it's very likely Arya Stark and Lyanna Mormont's paths are crossing in season 7. Kit Harington was also on set that afternoon, meaning we are likely to see another emotional Stark reunion next year.
WOW!
Plenty of peeps on Twitter are all having the same reaction after seeing Isaac and Maisie together, and it's hard not to get caught up in a wave of excitement.
Is there another Stark reunion coming in "Game of Thrones?" All we can do is hope and wait.
Citations: 'Game of Thrones' fans think this undercover cast photo could mean a big reunion (Mashable)