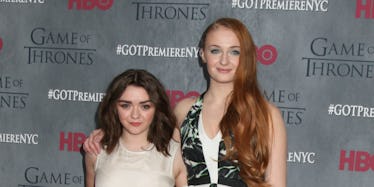 Sophie Turner And Maisie Williams Prove They're BFFs With Matching Tattoos
REX/Shutterstock
Sophie Turner and Maisie Williams may not get to appear in a lot of scenes together (up until the last season, the Stark sisters were cruelly separated by a sea) but at least the "Game of Thrones" stars are best friends in real life.
Not only do the two go out and hit the clubs, hang out and make vines, but now they took their friendship to the next level.
They got matching tattoos!
The tattoo artist, Miss kat Paine, took to Facebook to show off her latest customers. She wrote,
Got to tattoo these gorgeous girlies today Maisie Williams and Sophie Turner from 'Game of Thrones.'
The actresses stopped off at the Northern Ireland tattoo parlor, Belfast City Skinworks, while filming in the area.
She revealed in the comment section that the tattoos were matching and a date.
What could the date MEAN?!
Some speculate that their tattoos may include a date before the filming of "Game of Thrones" even began.
Some think it is the day the two met.
Hmm... the plot thickens.
Really, we just want to be a part of your girl gang. Please let us join you gals being pals. We'll be good -- we'll get so many tattoos with you.
#Mophie forever.
Citations: Game of Thrones' Sophie Turner and Maisie Williams Got Matching Tattoos Proving Stark Sisterhood Extends Offscreen (Time)