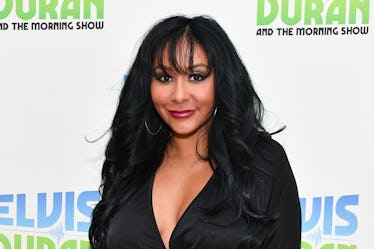 Snooki's Workout Routine Shows Just How Seriously She Takes The "G" In GTL
Dia Dipasupil/Getty Images Entertainment/Getty Images
Jersey Shore is in full swing once again, fam, and as always, the drama is entertaining AF to watch. In addition to watching Jersey Shore Family Vacation every single Thursday (it's a serious guilty pleasure for me, guys), I thoroughly enjoy stalking all my favorite guidos and guidettes on social media (don't even get me started on Ronnie's Instagram breakup) — especially Snooki. On the many occasions I've lurked through her Instagram, I've come across some snippets of Snooki's workout routine, and honestly, I was kind of shocked by how hard she goes at the gym. For real, Nicole Polizzi takes the "G" in GTL to a whole other level, guys.
If you're up to date with Jersey Shore Family Vacation, then you've watched — and lived for — all the new drama that's been going down (seriously though, Ronnie, are you OK?), including that breakdown Snooki had during the two-hour premiere when she lost her wedding ring, and the guido gang spent about two hours trying to locate the five-carat gem in their massive backyard. But look, even though the 30-year-old meatball's life often looks like a bit of a sh*tshow on TV, her workout routine seems to be anything but.
You might assume it's only the dudes on the show who are all about that GTL life (for those who aren't as Jersey Shore-obsessed, GTL stands for "gym, tan, laundry"), but Snooki actually goes pretty HAM with her workouts, and her dedication to the "G" in GTL is honestly pretty inspiring.
The most inspiring part is that, according to Women's Health, despite her hectic schedule and the fact that she's a mom of two, Snooki consistently shows up at the gym, crushing her goals at least four days a week.
I mean, can we just talk about how awesome her handstand skills are? #Goals.
Snooki's trainers, Anthony Michael and Adria Bogosian, of Anthony Michael Fitness, are the brains behind her workouts, Women's Health reports. And based on the 30-year-old mama's Instagram, they do not mess around in the gym. What's more, according to Women's Health, Michael and Bogosian don't actually give Snooki a certain number of reps to do in her workouts; rather, they tell her to do as many reps as possible until her muscles burn, her heart rate skyrockets, and she's high-key totally out of breath.
Though her back-to-back muscle-sculpting moves might technically be considered cardio by some standards since the exercises are done in such quick succession, Snooki's actually said she really isn't about conventional cardio (like the treadmill or elliptical) at all. She told Daily Mail,
I don't really do cardio. I'm not looking to lose weight and be skinny; I want to gain 10 lbs of muscle.
Cardio may not be her thing, but Snooki's all about weightlifting, plyometrics, and burpees — which means most of her go-to workouts are actually pretty doable for all of us ~non-celebs~.
OK, maybe the one exception is this round of pull-ups she's doing on the 'gram. I'm kind of in pain just thinking about attempting that on my own, since I'd probably strain like 17 muscles in the process. Respect, Snooki. Respect.
On the real, though, if you want to try to add a couple of Snooki's go-to exercises into your own routine, you'll most likely be able to catch on pretty quickly — and you won't even need to take a trip to the gym, as most of these workouts can be done right in the comfort of your own home.
You'll be dripping with sweat in no time after just a few of these babies, and your shoulders and core will definitely be feeling the burn.
If you're not really into such an explosive exercise, though, you can try adding some side planks into your home workouts to sweat it out Snooki-style.
Performing a few reps of this core-strengthening move will target your obliques and tone your shoulders, not to mention it requires a whole lot of focus and bodily control to pull off.
Regardless of whether or not you want to take on the challenge of some of Snooki's workouts, I think we can all agree on how awesome it is that this fierce little meatball has decided to make fitness such a big priority in her life — that, my friends, is incredibly inspiring in and of itself.