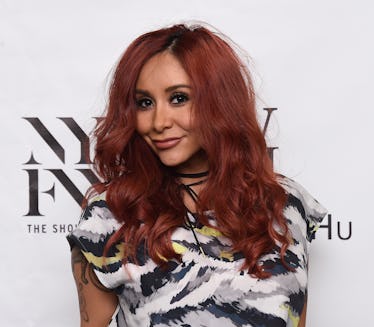 Snooki's Net Worth Will Make You Want To Go To The Jersey Shore ASAP
Ilya S. Savenok/Getty Images Entertainment/Getty Images
Is there anyone in the history of reality TV who's more entertaining than Nicole "Snooki" Polizzi? The answer is obviously no. Snooki's drunken stumbles, run-ins with the police, and hilarious dance moves made her the breakout star of Jersey Shore when it first premiered in 2009, and even all these years later, she's still entertaining fans week after week on Jersey Shore Family Vacation. Snooki has brought millions of eyes to Jersey Shore over the years, so I can't help but wonder, what's Snooki's net worth? Apparently, it pays to be a drunken fool on TV, because Snooki's antics have earned her a serious amount of money over the years.
According to Celebrity Net Worth, Snooki's net worth sits somewhere around $4 million. The majority of her wealth comes from her Jersey Shore salary. She reportedly earned $2,200 per episode in the show's first season, but by the sixth and final season, she was making as much as $150,000 per episode. Only Snooki, DJ Pauly D, and Mike "The Situation" received this hefty per-episode sum, with their co-stars making slightly lower figures ranging from $100,000 to $40,000 per episode. Snooki's $150,000 salary is great, but the additional MTV benefits are even better: Snooki also received a $400,000 signing bonus, a $200,000 end-of-season bonus, and $150,000 for a reunion episode. How's your math? Mine's not great, but even I can tell that Snooki made around $2.55 million just for Season 6, which is an unreal amount of money.
Another large chunk of Snooki's net worth comes from the many spin-offs, appearances, and guest spots she's participated in since she first hit it big on Jersey Shore. As any die-hard Jersey Shore fan will remember, Snooki received her own spin-off show, Snooki & JWoww, after the show ended. The MTV series followed the best friends as they lived and partied together in Jersey City, New Jersey. Snooki & JWoww started as a simple Jersey Shore spin-off, but that all changed when Snooki got pregnant and was forced to quit her hard-partying ways. According to OK! Magazine, Snooki's transition into motherhood didn't prevent her from raking in big bucks: she made a reported $175,000 per episode of Snooki & JWoww, which is quite a lot considering that the show ran for 48 episodes over four seasons.
It may seem like Snooki spends most of her time in front of the camera — and don't get me wrong, she does — but she has some income coming in from her behind-the-scenes projects, as well. Many fans don't know that Snooki has published three books, A Shore Thing, Confessions of a Guidette, and Gorilla Beach, since 2011, and A Shore Thing even made the New York Times bestseller list. The Jersey Shore star also has a popular e-commerce business, The Snooki Shop, which sells bathing suits, dresses, tops, and more inspired by the meatball's unique sense of fashion.
Snooki may be living the life now, but things weren't always that way. In a recent interview with InStyle, Snooki revealed that during the first season of Jersey Shore, MTV didn't even pay the cast with actual money — they paid the cast in gift cards:
We would get $200 a week from the Shore Store. I had never gotten that much in a week, like, every single week, because you usually get paid every two weeks. That was crazy for me.
There's no word on how much Snooki and her roommates were paid for Jersey Shore Family Vacation, but I have to imagine that she's making much more than just $200 a week.
A second season of Family Vacation has already been confirmed, so Snooki's $4 million net worth will only go up from here. BRB, becoming a reality TV star ASAP.