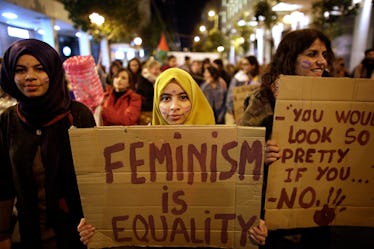 Snapchat Is Celebrating International Women's Day With A Song You Might Know
Milos Bicanski/Getty Images News/Getty Images
I don't know how y'all feel, but International Women's Day makes me want to dance. Well lucky for me, Snapchat's International Women's Day Bitmojis are helping me do just that. As women from across the nation come together to celebrate this important day, let's not forget the change that still needs to be done.
In honor of International Women's Day, Snapchatters will be able to watch as their Bitmojis break it down to Kesha's hit song "Woman." Clearly this is a match-made in heaven. Not only is the song's title a clear nod to the day, but the up-tempo beat and inspiring lyrics will have you flying your feminist flag proudly.
So how does this work? First make sure your Bitmoji is linked with Snapchat. Then just open the app, have your camera facing forward, tap the screen, and select the singing Bitmoji option (it should be the first one). Simple as that. Then, you can watch and enjoy as your Bitmoji dopplegänger performs to Kesha's "Woman," while twirling a baton no less.
I may not be the biggest fan of Snapchat since the update, but this makes it all worth it.
And for those who refuse to let International Women's Day just be a one-day thing, don't fret. According to a press release, this feature will be available all week.
Choosing Kesha to represent this day via Snapchat is a perfect choice. The brave pop-singer underwent huge turmoil during her legal battle with producer Dr. Luke in 2014. Kesha not only alleged in her lawsuit that Dr. Luke had verbally and emotionally abused her throughout their time, but also alleged that he had drugged and raped her as well.
Dr. Luke denied Kesha's allegations in a statement to Rolling Stone.
The statement read in part,
[A]ll the evidence – including Kesha's own videotaped sworn testimony – show her allegations are false. The only thing Kesha is not free to do is to continue to lie about Dr. Luke through publicity stunts and outrageous smears, ignoring the fact that by her own free will she went to work and entered into new contracts with Dr. Luke years after this 'incident' supposedly happened. Her goal all along has been solely personal enrichment by seeking to break contracts that brought her success and millions so she can enter into more lucrative ones.
Without a doubt Kesha's lawsuit was hard to watch for all of us, from Dr. Luke suing her for defamation to the heartbreaking image of Kesha sobbing in the background after being told by the judge that her wish to end her contract with Dr. Luke was "unreasonable." Kesha ended up losing in court.
So watching Kesha rise from the ashes and deliver her revival album Rainbow was such a huge moment for us all. The album's debut single, "Praying," is a strong and inspiring track that lights a fire inside of me. Kesha actually shared the story of all the pain she went through making "Praying" and how she has grown strong from it in Lena Dunham's Lenny Letter.
She wrote,
'Praying,' my first single in almost four years, comes out today. I have channeled my feelings of severe hopelessness and depression, I've overcome obstacles, and I have found strength in myself even when it felt out of reach. I've found what I had thought was an unobtainable place of peace. This song is about coming to feel empathy for someone else even if they hurt you or scare you.
Truly a queen.
Since releasing her album Rainbow, Kesha hasn't been afraid to grace us in the spotlight. She delivered an incredible performance of "Praying" during the 2018 Grammys on Jan. 28. She was joined by fellow celebrities Camila Cabello, Cyndi Lauper, Julia Michaels, and others in honor of the Time's Up movement.
Even though she may have lost (robbed of in my opinion) Best Pop Solo Performance and Best Pop Vocal Album at the 60th Grammys, there's no question that she still managed to totally steal the show.
So happy International Women's Day everyone, even though you should be celebrating way more than once a year. For those looking to contribute more to helping combat gender inequality, check out these amazing organizations to donate to today.
A Facebook status is nice and everything, but it's not enough to make true change. Make a difference today. Girl power, baby.