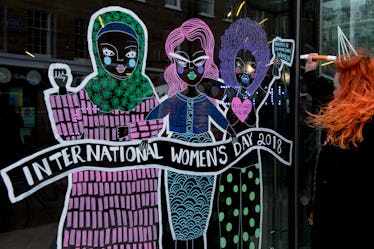 These Organizations Are Perfect To Donate To On International Women's Day
Chris J Ratcliffe/Getty Images News/Getty Images
March 8 is International Women's Day, and it is about both celebrating the achievements of extraordinary women and the ongoing fight for gender equity. You might find yourself wondering how you can be a part of the day, and there are many ways to show your support. If you're in a charitable mood, there are also plenty of organizations devoted to helping women that could use a little love today. If you need a little guidance, you can always choose from the following list of wonderful organizations to donate to for International Women's Day.
Giving a monetary donation is a great way to truly support causes in need. Of course, you want to make sure that your money is going toward something good, so it's important to learn about the organization that you plan on donating to. Luckily, there is no shortage of deeply worthy women's organizations that would be ever so grateful for your thoughtful contribution today (and any day).
In order to round up some of these deserving charities devoted to helping women and girls, I used helpful resources like Charity Navigator and the official International Women's Day website.
World Association of Girl Guides and Girl Scouts (WAGGGS)
This first charity is the official pick from the International Women's Day website. WAGGGS is the world's largest international organization for women and girls. According to the WAGGGS website, the UK-based charity represents 10 millions girls and young women across 150 countries.
The WAGGGS mission is "to enable girls and young women to develop their fullest potential as responsible citizens of the world." You can donate to WAGGGS and support their efforts to teach Girl Guides and Scouts about themselves and the world through leadership development, volunteering, and the empowerment of young women to speak out for positive change.
Camfed USA
The Campaign for Female Education (Camfed) is focused on utilizing education to empower young women. According to their website, "Camfed invests in girls and women in the poorest rural communities in sub-Saharan Africa, where girls face acute disadvantage, and where their empowerment is now transforming communities."
Since 1993, Camfed has directly supported nearly 2 million students attend primary and secondary school with their education programs in Zimbabwe, Zambia, Ghana, Tanzania, and Malawi. You can donate to Camfed and assist them in their mission that provides girls with education, which they believe is the starting point for social change.
Breast Cancer Research Foundation (BCRF)
The BCRF is the highest-rated U.S. breast cancer organization, according to their website. It also has a 4-star rating on Charity Navigator. The BCRF mission is "to prevent and cure breast cancer by advancing the world's most promising research."
Your BCRF donation will go toward the foundation's "critical funding for cancer research worldwide to fuel advances in tumor biology, genetics, prevention, treatment, metastasis and survivorship." Per the BCRF website, 91 cents of every dollar spent goes directly toward the over 275 researchers they support around the world.
Planned Parenthood Federation of America (PPFA)
The PPFA is called "the most trusted provider of reproductive health care" by Charity Navigator. The PPFA mission is aimed at education and empowerment. According to the PPFA website,
Planned Parenthood works to educate and empower communities, provide quality health care, lead the reproductive rights movement, and advance global health. Planned Parenthood believes sexual and reproductive health rights are basic rights.
You can donate to PPFA to help them continue providing expert health care and continue advocating "for policies that enable all people to access comprehensive reproductive and sexual health care, education, and information."
Equal Right Advocates (ERA)
ERA is "dedicated to protecting and expanding economic and educational access and opportunities for women and girls," according to their website. Despite real progress that has been made, women and girls are continually facing unfair practices and policies in school and the workplace, and ERA is helping bring about gender equity by working to eliminate unequal pay for the same work, sexual harassment, and unequal access to career advancement opportunities.
You can donate to ERA and help them with their mission to eliminate gender discrimination.
TIME'S UP Legal Defense Fund
The TIME'S UP Legal Defense Fund provides "subsidized legal support to women and men who have experienced sexual harassment, assault, or abuse in the workplace and while in pursuit of their careers," according to their GoFundMe page.
You can donate to the TIME'S UP Legal Defense Fund to help enable more individuals who have experienced sexual harassment in the workplace to come forward. The fund is housed in the National Women's Law Center, and it is working with the Center's Legal Network for Gender Equity to provide legal assistance those who could not afford it on their own.
The tradition of celebrating International Women's Day is over 100 years old, and while society has evolved and the gender gap has shrunk, the mission of the day remains the same: striving for gender equity. The theme of International Women's Day 2018 is #PressforProgress, and you are sure to be doing your part if you donate to one of the many worthy causes in need of your help.
Whatever you have to give will be greatly appreciated, and you can donate knowing that your money is going to good use to empower women and girls in their fight for gender parity.