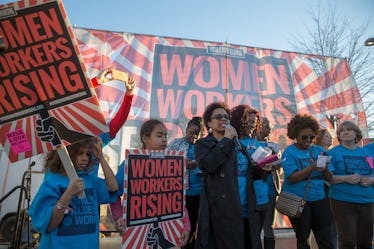 The History Of International Women's Day Goes Back Way Further Than You Think
Tasos Katopodis/Getty Images Entertainment/Getty Images
Given that March is Women's History Month, you're probably hearing a lot about the the celebration of International Women's Day on March 8, 2018. Of course, you can tell by its name that the day is meant to honor and celebrate the achievements of women, present and past. The true meaning of the day encompasses so much more than that, though. So, what is International Women's Day?
The celebration of International Women's Day is a tradition that has stood strong for over a century, according to the official United Nations website, and it is both a celebration of women's achievements and a continuing fight for gender equity and parity. The first incarnation of this day was in 1909 in New York City. To honor the 1908 garment workers' strike in New York, the United States celebrated National Woman's Day on Feb. 28, 1909. The Socialist Party of America organized the day of recognition in order to stand in solidarity with the women garment workers striking against highly dangerous conditions in the workplace.
That first National Woman's Day in 1909 was held on a Sunday so women workers could join the cause, and according to The History Channel, thousands of people showed their support, and there was a rousing crowd at the main rally in New York City.
Following the inaugural U.S. National Woman's Day, a 1910 meeting in Copenhagen of the Socialist International saw the creation of Women's Day (the conference chose the pluralized "women" as opposed to the previously used "woman" in New York) that was to be celebrated worldwide, and although no date was set, the purpose of the day was clear. The Copenhagen conference unanimously voted to officially create Women's Day that would build support for the continuing women's suffrage movement across the globe while also focusing on women's rights as a whole. International women's progress was already on its way as the conference included the first three women elected to Finnish Parliament.
With that momentum, the first International Women's Day was marked on March 19, 1911 in Austria, Denmark, Germany, and Switzerland. Over 1 million women and men attended rallies across Europe, and they fought hard on the suffrage front as they rallied for women's right to vote. Additionally, they called for women's right to work, an end to discrimination of women on the job, and women's access to vocational training.
As World War I began in 1914, social reform movements (like the women's movement) lost momentum, but women still marched and demonstrated on International Women's Day. The fight for equal rights was somewhat put on the back burner as women utilized the day to protest the war.
You can tell throughout its history that the meaning of International Women's Day has always been two-fold to both celebrate women and also push for more progress. In the early days, though, the activist component of the day was the most visible.
In 1917, with World War I still raging, women in Russia had seen enough death and destruction, and the textile workers, led by Alexandra Kollontai, protested and went on strike on the last Sunday in February (which happened to be March 8 on the Gregorian calendar) for "bread and peace," according to Workers World. Four days after the strike, Czar Nicholas II abdicated the throne and set the Russian Revolution in motion. With the czar dethroned, a provisional government granted women in Russia the right to vote in 1917.
Following that great show of strength by the Russian textile workers, International Women's Day continued to be celebrated annually in mostly socialist countries until the 1970s.
in 1975, the United Nations (UN) honored the International Women's Year by celebrating International Women's Day on March 8. 20 years after that move by the UN General Assembly, the Fourth World Conference of Women was held in Beijing, China, and the Beijing Declaration and Platform for Action was born in 1995. The declaration was signed by 189 nations, and it focused on 12 critical areas of women's concern, including: participation in politics, access to education, equal pay, and living in a society free from gender discrimination.
With a renewed focus on women's rights, International Women's Day grew — and it was celebrated in over 100 countries and made an official holiday in more than 25 countries by 2014. Due to the holiday's ties to socialism and communism, International Women's Day didn't fully catch on in the country where it all began in 1909 until recently.
With a growing women's movement in the United States, thanks to organizations like the Women's March, International Women's Day has a new place in American society. Last year's official theme for International Women's Day was #BeBoldforChange. It was a call for a more gender-inclusive world, and there was even an International Women's Strike where women stood in solidarity against unequal pay and treatment.
This year, the official campaign for International Women's Day 2018 is #PressforPogress. Fueled by recent activism movements like #MeToo and #TimesUp, this International Women's Day on March 8 is focused on striving for gender parity in this moment filled with more support than ever for women's rights.
Seemingly reaching into the past for inspiration, International Women's Day (particularly in the United States) has found a renewed focus on the activist component of day. Standing on the shoulders of the generations of women who fought before, March 8 is not only a celebration of their achievements but also a call for action and a continuing fight for gender equity.