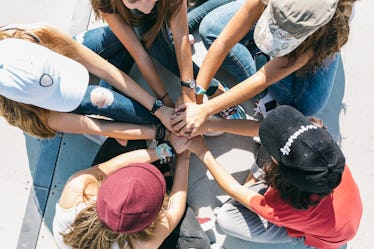 10 International Women's Day T-Shirts & Accessories To Celebrate Girl Power
The girl power is so real. Looking back on our most recent history, it's clear to me that women are making amazing waves. From the days of fighting for the right to vote, to every pink "pussyhat" we saw marching down in Washington D.C., to the "Me Too" movement — there's seriously no shortage of spirit and strength. It's all creating a community of role models and activists who want to make sure females are getting the appreciation and human rights they deserve. And on March 8, you can show your support by sporting International Women's Day T-shirts or accessories so you can spread the empowerment.
According to the International Women's Day website, this day originally began in the early 1900s when our country was growing with new ideas. Women became so much more active in creating change for themselves. They campaigned and marched, and made movements for better work conditions and equal pay.
International Women's Day is meant to be a global celebration of how far we've come in our fight against inequality, and is something the whole world recognizes — because the struggle is real beyond our borders, too. It's a day where we can look at all our achievements socially, economically, politically, and culturally and let it make us wonder what we can't do.
Sure, there's still a lot of progress that we need to stay passionate about. But, wearing purple or one of these feminist T-shirts or accessories will constantly remind us that the future is so female.