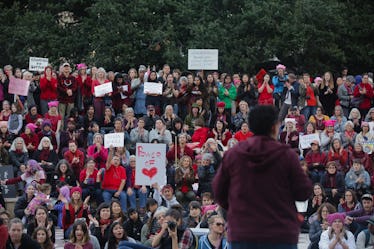 International Women's Day Is The Perfect Opportunity To Let Your Feminist Flag Fly
Elijah Nouvelage/Getty Images News/Getty Images
First of all, can we just agree that all of us are ready to let our inner feminists shine through on International Women's Day? It's so exciting because it's a time when people of all different backgrounds and walks of life come together to celebrate womanhood, the achievements of women and the movement for women's rights. It's also important because this year's celebration comes right off the heels of powerful movements like Me Too, Times Up and the Women's March. So if you were wondering how to celebrate International Women's Day, there are tons of girl power-related activities to ensure that this year's celebration is one that none of us will ever forget.
International Women's Day falls on March 8 every year. Originally called National Women's Day by the Socialist Party of America in 1909, the name was changed to International Women's Day a year later after a suggestion at an International Conference of Working Women in Copenhagen, and in 1975 the United Nations dubbed the day an official holiday. According to its website it's a day to "celebrate the social, economic, cultural and political achievements of women." The theme of this year's celebration is #PressforProgress, which the website claims is a call-to-action to friends, communities and others to "press forward and progress gender parity."
Usually, there are various kinds of rallies, speeches, conferences, and festivals around the world to commemorate the holiday. On the other hand, simple gestures like giving flowers to the best woman you know or buying one lunch work just as well for getting your point across; and this year is no different. So here are few ways to ring in International Women's Day, no matter where you are.
In Atlanta, Georgia, the Women's Chamber of Commerce will be hosting a luncheon to promote entrepreneurship to "female business owners."
In Austin, Texas, a rally that includes renowned music entertainers including Julie Slim, Paula Maya, Leti Garza and others will perform music that reflects other countries such as Brazil and France. The event will include a conversation about the "about the limited economic opportunities, professional erasure, and threats of violence" faced by women in the music industry, and proceeds will go to local women's organizations.
In Chicago, Illinois, a dinner and dance party event called "Think Cosmically, Act Locally" will be held at The Joinery to celebrate some of the city's biggest influencers, including writers, politicians and others. A portion of the ticket sales will benefit Urban Grower's Collective, which is a non-profit organization led by women that focuses on community work.
Los Angeles, California's' Bootleg Theatre will be presenting Queenfest, a variety show that includes a line-up of female artists who "utilize their art" to raise money for charity. The organizers reportedly raised $500 in 2017 for Planned Parenthood and the city's LGBT Center.
Organizers in Saint Paul, Minnesota have arranged a "power breakfast" event to discuss ways to create healthy spaces for all women while celebrating local influencers in the sustainability industry.
USA Today also reported that there will be a rally, which calls for a day of action for women's rights, held at New York's Washington Square Park before attendees march to Zuccotti Park in Manhattan.
But if you're not in the United States, there are opportunities for you to get involved, too. Organizers have planned events in places like Dubai, Australia, Vancouver, Namibia, Ireland, Manchester and countless others. To see what's going on in your area, you can check out the International Women's Day Event page.
International Women's Day comes off the heels of the Women's March.
During the weekend of Jan. 20, over 1.5 million people participated in 486 marches and rallies, according to March On, a women-led political organization. This year, the theme of the Women's March was similar to International Women's Day's #PressforProgress. Organizers of the march aimed to get more women to vote and elect more women into public office. And with the amount of people who showed up in support of that cause, it looks like the momentum is truly building — and hopefully the upcoming events have the same fate.
There's no greater feeling than seeing events like these not only act as a catalyst for change, but bringing women together to stand in solidarity of issues that are often underreported, overlooked or undervalued. I just hope I can find an event in my area that sounds as phenomenal as these.