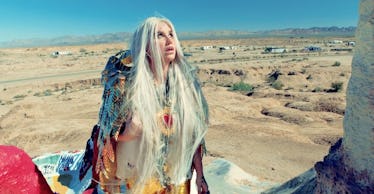 Kesha Dropped Her 'Rainbow' Album And You'll Be Playing It On Repeat All Weekend
YouTube
I already planned on spending my weekend crying (I'm a sad girl, OK?) but now I have some incredible tunes to accompany my tears. Kesha's Rainbow album is here, and OH MY GOD, YOU GUYS, it's so freaking good.
The glitter goddess dropped her full track list at midnight and fans are obsessed. We were already blessed with "Praying," "Hymn," and "Learn To Let Go," but now I have 11 new songs to add to my "Crying Alone At Night Someone Please Hold Me" playlist. What? I'm lonely...
If you haven't listened to her album, then please go to Spotify/iTunes immediately and play dat sh*t. It's not even 8 a.m. and I have tears streaming down my face. Kesha has destroyed me and I'm so, so OK with it.
Rainbow is emotional because of the lyrics, of course, but also because it's the first time Kesha has made music in nearly four years. The album follows an intense legal battle with former producer, Dr. Luke, who she accused of sexually abusing her.
The first single Kesha dropped from the album was "Praying," which spoke to the "hopelessness and depression" the star has faced over the years. She opened up about her pain in a piece for Lena Dunham's Lenny Letter and wrote,
'Praying,' my first single in almost four years, comes out today. I have channeled my feelings of severe hopelessness and depression, I've overcome obstacles, and I have found strength in myself even when it felt out of reach. I've found what I had thought was an unobtainable place of peace. This song is about coming to feel empathy for someone else even if they hurt you or scare you.
"Praying" isn't the only song on the album that offers hope and love for her listeners. The title track, "Rainbow," is about finding the light after living in darkness. The song opens with the lyrics,
I used to live in the darkness Dress in black, act so heartless But now I see that colors are everything Got kaleidoscopes in my hairdo Got back the stars in my eyes, too Yeah, now I see the magic inside of me
CHILLLSSSSS. Thank you, Kesha, for a beautiful album and being so open about your journey to find happiness, hope, and love.
(PS. I have tickets to your show in the fall so like, see you soon? Can't wait to hug you and cry???)