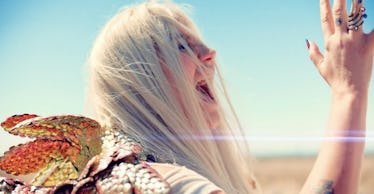 Kesha's New "Praying" Music Video Has Fans Psyched For Her New 'Rainbow' Album
YouTube
After the release of Kesha's new heartbreaking music video for her single "Praying," fans are getting pumped for her upcoming album, Rainbow.
This is Kesha's first single and music video in nearly four years, and it's following an intense legal battle with her former producer, Dr. Luke, who she accused of sexually abusing her.
The claims were dismissed by a New York judge in April 2016, leading thousands of people — celebrities included — to speak out in support of Kesha. Her heartbreaking case is just further proof that women still have a long way to go in the struggle to send their abusers to prison.
Kesha wrote a piece in Lena Dunham's Lenny Letter, published today, explaining what motivated "Praying." She said,
'Praying,' my first single in almost four years, comes out today. I have channeled my feelings of severe hopelessness and depression, I've overcome obstacles, and I have found strength in myself even when it felt out of reach. I've found what I had thought was an unobtainable place of peace. This song is about coming to feel empathy for someone else even if they hurt you or scare you.
Check out the video here.
In the powerfully emotional video, she starts off by saying,
Am I dead? Or is this one of those dreams, those horrible dreams, that seem like they last forever? If I am alive, why? Why? If there is a God or whatever, something, somewhere, why have been I been abandoned by everyone and everything I've ever known? I've ever loved? Stranded. What is the lesson? What is the point? God give me a sign or I have to give up. I can't do this anymore. Please just let me die, being alive hurts too much.
The second verse of the song says,
I'm proud of who I am No more monsters, I can breathe again And you said that I was done Well, you were wrong and now the best is yet to come 'Cause I can make it on my own And I don't need you, I found a strength I've never known I've been thrown out, I've been burned When I'm finished, they won't even know your name
The heartbreaking song has fans pumped for her new album, Rainbow, set to release August 11. They've been tweeting their support for the singer ever since the song's release.
In the song, Kesha says she's been through hell, but has been able to find strength she never knew she had. I hope that's true.
Welcome back, Kesha.