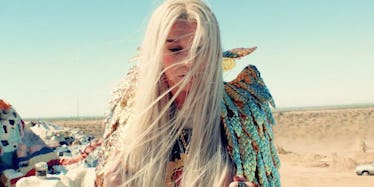 Kesha Drops First Song And Music Video In Almost 4 Years And It's So, So Emotional
YouTube
It's been a long time since we've heard from Kesha, but you guys, she is seriously back.
Kesha just released her new song "Praying," and the music video and lyrics are incredibly beautiful, moving, and heartbreaking.
In a piece she wrote for Lenny Letter, Kesha explains where the heartbreak and inspiration came from.
'Praying,' my first single in almost four years, comes out today. I have channeled my feelings of severe hopelessness and depression, I've overcome obstacles, and I have found strength in myself even when it felt out of reach. I've found what I had thought was an unobtainable place of peace. This song is about coming to feel empathy for someone else even if they hurt you or scare you.
Take a listen.
Praying (Official Video) by Kesha on VEVO
Trust me, I know.
This song comes after a long, ugly battle with Kesha's old producer and collaborator, Dr. Luke, after the "Crazy Kids" singer alleged he committed various acts of sexual assault and abuse toward her. What ensued was an outrageous road of very public, personal, and legal turmoil.
Kesha continued in her Lenny Letter,
It's from our darkest moments that we gain the most strength. There were so many days, months even, when I didn't want to get out of bed. I spent all day wanting to go to sleep, and then when I did fall asleep, I had horrible night terrors where I would physically cry and scream through the dark. I was never at peace, night or day. But I dragged myself out of bed and took my emotions to the studio and made art out of them. And I have never been happier with a body of work as I am with this record.
Kesha, we are so, so glad to hear that.
If you or anyone you know is suffering from depression or suicide, visit Suicide Prevention Lifeline.