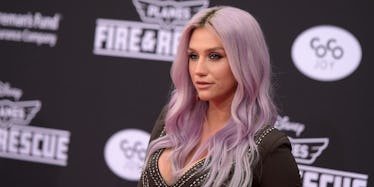 Kesha Must Work With Alleged Rapist Because Our Justice System Failed Her
Getty Images
Pop star Kesha broke down in tears in Manhattan Supreme Court on Friday after hearing the judge deny her request to break her contract with Sony.
This comes as a heartbreaking decision for the singer who's been in an ongoing legal battle with Sony producer Dr. Luke (aka Lukasz Gottwald) since she accused him of sexual assault and battery.
Gottwald reportedly drugged and raped Kesha soon after discovering her talent as an 18-year-old student.
 In the 2014 filing, Kesha claimed Gottwald sexually, physically and verbally abused her for 10 years -- 10 years.
She later amended the statement to implicate Sony, saying,
[Dr. Luke's] proclivity for abusive conduct was open and obvious [to Sony] executives, who either knew of the conduct and turned a blind eye, failed to investigate Dr. Luke's conduct, failed to take any corrective action or actively concealed Dr. Luke's abuse.
Unsurprisingly, Gottwald has denied these claims. Currently, Kesha is legally incapable of producing music without Gottwald, whose record label, Kemosabe Records, falls under Sony's umbrella. As a result, the singer has not released any new music since 2013.
Soon after the verdict, the hashtag, #FreeKesha, gained traction on Twitter, with celebrities and fans alike jumping to her defense.
The way the US justice system is currently set up, it is very difficult for a victim of sexual assault to come forward with an allegation.
Victims are forced to relive their trauma countless times and face the scrutiny of strangers, all in the hopes of their abuser serving time, though the chances of that are slim to none. In Kesha's case, this has not only affected her personal life but also deprived her of a professional life.
If you support Kesha and a justice system that better acknowledges victims of abuse, check out ENDTHEBACKLOG, an organization that is fighting to get rape kits tested and put assailants in prison.
Citations: Judge Rules Kesha's Sexual Assault Allegations Aren't Enough To Free Her From Contract [UPDATED] (Huffington Post)