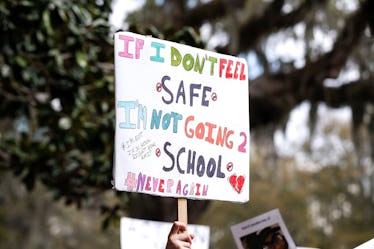 If You're Having Trouble Making A March For Our Lives Poster, These Ideas Will Help
Don Juan Moore/Getty Images News/Getty Images
It has been a dizzying few years of nearly-constant protests and public demonstrations in America on a scale arguably not seen since the Civil Rights Movement. So if you're attending Saturday's huge anti-gun violence march in D.C. on Saturday, March 24, or at the dozens of other locations around the world, it might seem challenging to come prepared with fresh sign ideas. Luckily for you, Twitter was abuzz with sign ideas for the March For Our Lives in the days ahead of the event.
"The adults know that we're cleaning up their mess," Cameron Kasky, an 11th-grader at Marjory Stoneman Douglas High School, told Time Magazine this week. Kasky started the #NeverAgain movement on social media to curb gun violence after a gunman murdered 17 people at the Florida high school last month. (And if you need more sign inspo, you might want to check out some Parkland student quotes.)
The frustration of the nation's youth is front-and-center, especially with several gun-related incidents happening even in the weeks following the Parkland, Florida massacre. USA Today reported on March 7 that more than 600 copycat threats occurred in schools across the country following the shooting at Marjory Stoneman Douglas High School. Continued violence, coupled with the fact that just a week after the Parkland shooting, Florida lawmakers voted down a ban on assault weapons, has ensured that there is so much emotion heading into Saturday's march.
The Parkland students have demonstrated tremendous public strength in the face of intense weeks of media scrutiny. Emma González, didn't have a Twitter account before the shooting, according to Time. Eleven days later, she had more followers than the National Rifle Association. David Hogg erroneously became entangled in a conspiracy theory that he was a crisis actor, and not actually a student. In spite of this, the students have called for specific gun reform fixes, like an assault-weapons ban, universal background checks and digitized gun-ownership records.
If you're new to protesting, or if you're suffering from a case of writers' block, here are some clever ways to make sure your sign stands out in the crowd: