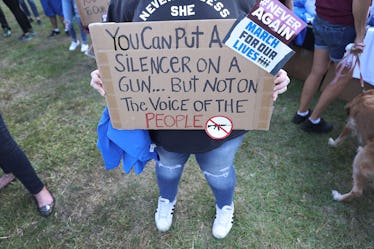 5 Quotes From Parkland Students To Make Your March For Our Lives Signs Shine
Joe Raedle/Getty Images News/Getty Images
As the March For Our Lives is fast approaching on March 24, you might be asking yourself what poster you're thinking of creating for the protest. I know from my own personal experience at different protests over the past couple of years that the posters that people manage to come up with are super creative and have plenty to say. But just because you're not creative doesn't mean that you't make an awesome poster. To help anyone that needs some inspiration, here are five quotes for March For Our Lives signs that you can use for the big protest day.
I anticipate that the March For Our Lives (MFOL) will feel decidedly different from any other protest that we've experienced in the United States in the 21st century. This protest and the #NeverAgain movement were founded in response to the tragic school shooting at Marjory Stoneman Douglas High School in Parkland, Florida. On Feb. 14 just before school let out, a former student descended on the school's campus and tragically took the lives of 17 victims — most of whom were young teen students.
The student survivors from Parkland — absolutely shaken by the events that took place at their school — decided to take matters into their own hands. And thus, the March For Our Lives protest was born. Countless protests in cities across the country and around the world have been created to stand in solidarity with the Parkland students. So what better way to honor the victims of the shooting and the survivors that have called for change than to use quotes from these students for your protest posters.
Here are some of my favorite ideas.