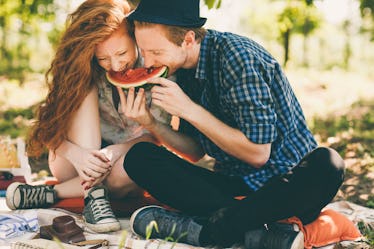 Here's How To Figure Out If Your Summer Fling Is Something More
When August starts winding down, you inevitably lament the demise of your beach days, start fantasizing about trading your sandals for suede booties, and embrace pumpkin spice everything. And if you started seeing someone new, one question inevitably arises But if the warmer months brought you a much needed seasonal tryst, one question will inevitably arise: Do you need to end your summer fling? After all, the word fling implies a short-lived rendezvous. So now that you've had your fun, is it time to bid your fling farewell, or try to turn this romance in to a full-fledged relationship?
Many people go the latter route. In fact, Yelp rep Hannah Cheesman told Elite Daily that a whopping 73 percent of millennials who engaged in a summer fling were able to transition into a real relationship. The problem is, many people enter flings carelessly, without any kind of honest and upfront conversation about where it's heading. A fling truly epitomizes the carefree nature of summer — it's spontaneous, it's uncomplicated, and very often, that means there are no strings attached. Still, the more time you spend with your fling, the greater the chance that one (or both) of you might catch some feelings. And then what? It's no surprise that 52 percent of singles surveyed in Yelp's poll said they felt blindsided when they realized their fling was just that and nothing more.
So, how do you know when it's time to pull the plug? Experts say these are some clear signs you should end your summer fling.