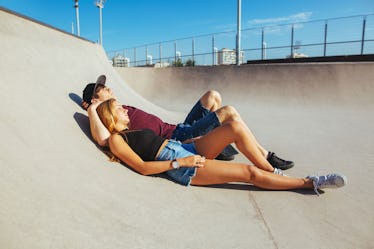 5 Signs Your Summer Fling Doesn't Want Your Relationship To Last Into The Fall
The word "fling" is essentially the antithesis of a long-term relationship. Which begs the question: Can summer flings last? It seems unlikely when the very definitions of a fling include "a casual try or involvement," "a casual or brief love affair," or "a period devoted to self-indulgence," according to the Merriam-Webster dictionary.
However, research says that in many cases, they can. In fact, a Yelp rep told Elite Daily that nearly 73 percent of people who've had a summer fling were able to turn it into a real relationship, according to a 2017 Yelp Eat 24 poll of 2,000 millennials. Yet more than 58 percent of summer flingers ended up in an argument due to one person thinking things were more serious than the other, and 52 percent admitted they were blindsided when they realized their fling wasn't going to turn into something more. In other words: Sandy and Danny may have gotten a lot of our hopes up in Grease, but the fact of the matter is, some flings are meant to just fizzle out. And very often, the problem stems from not being on the same page about where this fling is going.
It all starts with a whirlwind of waterfront makeouts, spontaneous evening strolls, and hefty pours of rooftop rosé. It's carefree as can be — until you start catching some serious feelings for your fling, that is. Defining a relationship as a fling implies that it has an expiration date on it from the start. Still, just because you thought you wanted a no-strings-attached relationship back when you met in June doesn't mean you might not be craving more come August. If you're wondering whether you can extend your summer romance into the fall — or you're looking for a way to fade out on your fling — keep a lookout for these common signs that your relationship isn't likely to last.