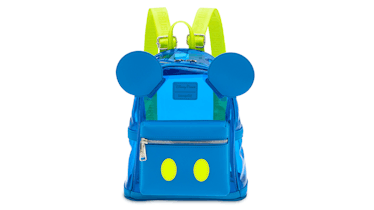 ShopDisney's Neon Summer Color Collection Is A Total Throwback Vibe
Disney worked their magic with the Millennial Pink and Briar Rose Gold color trends, and now, their latest collection drop will also make you squeal with delight. Arriving just in time for backyard barbecues and sunny beach days, ShopDisney's Neon Summer Color Collection has all the staples you need to rock your Disney style all season long.
You might be wondering what the Neon Summer Collection is all about. Unlike Belle of the Ball Bronze and Arendelle Aqua, Neon Summer is not just one solid color, but a vibrant combo of neon yellow, blue, and green. These three colors are used throughout the items featured in the collection. They give off a whimsy, fun vibe that you'll most likely want to work into your wardrobe. In addition, the new collection has every Disney essential you'd expect it would, like a cute spirit jersey and Mickey Mouse Loungefly backpack. There are even bright yellow Mickey Mouse Crocs so you can dress head to toe in Disney glam.
You can count on the neon hues to make you reminiscent of #throwback summer days when you were a kid and couldn't wait to wear your neon outfits. So, channel that nostalgia by wearing any of these seven Neon Summer items.