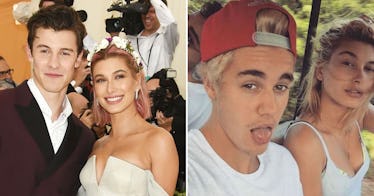 Shawn Mendes Was Asked If He'll Get Justin & Hailey A Wedding Gift & His Response Is So Cute
Jamie McCarthy/Getty Images; Instagram/JustinBieber
To say that Justin Bieber and Hailey Baldwin's engagement was a bit unexpected would be an accurate statement, right? Nonetheless, we're super happy for the couple, and it seems like they are literally over the moon with their relationship. So hey, whatever works for them, right? And apparently, Shawn Mendes is equally excited for the couple, despite the rumors that he was cozying up to Baldwin in late 2017 and sparking even more gossip by attending the 2018 Met Gala with her. But let's all just take a breather, because it's clear that there's *nothing* going on there, and Shawn Mendes' response to questions about Justin and Hailey's wedding totally proves that he's happy for his friend.
While I'm pretty positive you've seen Justin Bieber's Instagram confirming his engagement to Hailey Baldwin, I'm going to show it to you one more time, because it's cute AF. On July 9, part of Bieber's caption read,
Was gonna wait a while to say anything but word travels fast, listen plain and simple Hailey I am soooo in love with everything about you! So committed to spending my life getting to know every single part of you loving you patiently and kindLY ... My heart is COMPLETELY and FULLY YOURS and I will ALWAYS put you first! You are the love of my life Hailey Baldwin and I wouldn't want to spend it with anybody else. You make me so much better and we compliment eachother so well!! Can't wait for the best season of life yet!. It's funny because now with you everything seems to make sense! The thing I am most excited for is that my little brother and sister get to see another healthy stable marriage and look for the same!!!
And while we're at it, let's look at Hailey Baldwin's tweet confirming her engagement to The Biebs. On the same day that Justin posted his Instagram, Baldwin took to Twitter and wrote,
Not sure what I did in life to deserve such happiness but I am so utterly grateful to God for giving me such an incredible person to share my life with! No words could ever express my gratitude.
So where does Shawn Mendes come into play? So glad you asked!
In an interview with Australian show The Project, Mendes put any rumors to bed about ever being romantically involved with Baldwin and proved that he's the ultimate friend by revealing how he took the news of their engagement. He said,
I texted Hailey the day of, and I said congrats. That's what it is. I think everybody wants there to be more — there's not.
See? Clearly, the guy is just happy for the engaged couple, and there's pretty much nothing left to really pry into.
But LOL, of course we're going to pry into things more than we have to! In an interview with E! News, Mendes was asked by the reporter if he has thought about any particular wedding gift for the couple.
"I haven't thought about one. But no, I'm really happy for them," he replied.
You can watch it play out on a spectacular loop below:
Mendes kept things classy and supportive, as always, and that's cute and all... but, is it just me, or do you also see a very thin veil of annoyance underneath Mendes' very calm and cool demeanor? It's probably because he's been getting asked non-stop about Justin and Hailey's relationship, and he is most likely over it.
Fans were quick to point out that Mendes must be rolling his eyes every time a reporter mentions the names "Hailey and Justin," and TBH, they might be right:
So there you have it, folks. Shawn Mendes apparently gives zero f*cks about this whole thing. You heard it here first.