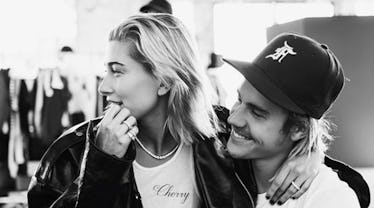 Hailey Baldwin Posted Her First Photo With Justin Bieber Since Their Engagement & It's Chic
Instagram/JustinBieber
The world tilted on its axis when it was reported on July 8 that Justin Bieber and Hailey Baldwin were engaged. And the world pretty much exploded a day later when Bieber confirmed the engagement with the cutest black-and-white photos of the couple kissing, along with a long AF, gushy caption. Bieber even followed that up with an adorable throwback video of Baldwin singing (that he subsequently deleted). Apart from a little tweet from Baldwin, her side of the internet has been pretty quiet when it comes to acknowledging the engagement... until now! Hailey Baldwin's photo with Justin Bieber after getting engaged that she just posted to Instagram is so friggin' chic.
Get ready to see your faves styling and profiling while boarding a private plane (jet?) to who knows where. Behold:
Baldwin kept things super simple, captioning the photo, "Mans." As in, "This is my mans, and we're about to jet-set around the world together because that's just the way we roll."
Baldwin had a little more to say previously on Twitter on July 9 when confirmed the engagement rumors that had been flying the day before, writing, "Not sure what I did in life to deserve such happiness but I am so utterly grateful to God for giving me such an incredible person to share my life with! No words could ever express my gratitude."
Awwwww.
But Bieber definitely had the most to say about the engagement. I mean, we all knew he had a way with words (how else could he have penned hits like "Sorry" and "What Do U Mean"?), but I definitely did not expect the level of lovey-dovey gushing from the Biebs that we got in his confirmation post. Below a photo of Baldwin smooching him on the cheek, Bieber wrote:
Was gonna wait a while to say anything but word travels fast, listen plain and simple Hailey I am soooo in love with everything about you! So committed to spending my life getting to know every single part of you loving you patiently and kindLY. I promise to lead our family with honor and integrity letting Jesus through his Holy Spirit guide us in everything we do and every decision we make. My heart is COMPLETELY and FULLY YOURS and I will ALWAYS put you first! You are the love of my life Hailey Baldwin and I wouldn't want to spend it with anybody else. You make me so much better and we compliment eachother so well!! Can't wait for the best season of life yet!. It's funny because now with you everything seems to make sense! The thing I am most excited for is that my little brother and sister get to see another healthy stable marriage and look for the same!!! Gods timing really is literally perfect, we got engaged on the seventh day of the seventh month, the number seven is the number of spiritual perfection, it's true GOOGLE IT! Isn't that nuts? By the way I didn't plan that, anyways My goodness does feel good to have our future secured! WERE GONNA BE BETTER AT 70 BABY HERE WE GO! "He who finds a wife finds a good thing and obtains FAVOR from the Lord!" This is the year of favor!!!!
Double awwwwwww.
And it seems like we're not going to have any shortage of these lovebirds gushing about each other in the future. On July 13, Bieber posted the most adorable video of Baldwin singing "Bad" by Wale and Rihanna rather badly (and fittingly so). But despite Baldwin's shoddy vocals, the video was super cute and proved just how much the pair care for each other, because Bieber is laughing wholeheartedly through the whole thing in that "you're super adorable" way (not the "you're so embarrassing" way).
I, for one, am super happy that these two were able to find their way back to each other because they are so beyond perfect together and have never seemed happier.