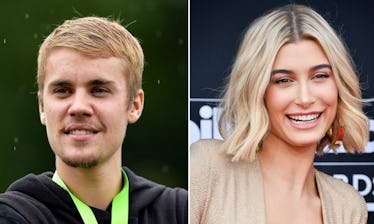 Justin Bieber Just Posted The Funniest Video Of His "Fiancé" Hailey Baldwin Singing On Instagram
STUART FRANKLIN/GETTY IMAGES SPORT/GETTY IMAGES. // FRAZER HARRISON/GETTY IMAGES ENTERTAINMENT/GETTY IMAGES
Justin Bieber is showing his new fiancée Hailey Baldwin some serious love on social media. In a now-deleted video that Bieber posted to Instagram, a 16-year-old Baldwin can be seen singing (quite badly) and laughing at herself. It's genuinely a cute video and so delightfully funny! Apparently, Bieber wanted to show off how cute his gal is and decided to post the video for fans to see. Actually, Justin Bieber's Instagram video of Hailey Baldwin singing will have you in stitches!
In the video, Baldwin is singing "Bad" by Wale and Rihanna. She appears to be trying to mimic Rihanna's seductive voice, but failing miserably. Thankfully, she's cracking up at herself in the process.
Baldwin breaks into laughter several times, indicating that she's not taking herself or her singing ability too seriously.
"Meet my fiancé," Bieber originally wrote on the post.
Clearly, Bieber thought this was a sweet moment to share with everyone. Unfortunately for Bieber-Baldwin fans, though, the singer quickly deleted the video.
"She doesn't like that I posted this so I'm gonna delete it," Bieber wrote on the post just before deleting it according to a ripped version of the video a fan account captured before the video was deleted.
Bieber's sweet video of Baldwin comes just days after he confirmed the couple's engagement with an emotional Instagram post.
Bieber addressed his post to Baldwin, stating that he would love her "patiently and kindly":
Was gonna wait a while to say anything but word travels fast, listen plain and simple Hailey I am soooo in love with everything about you! So committed to spending my life getting to know every single part of you loving you patiently and kindLY.
The 24-year-old singer also expressed that Baldwin was the love of his life, a title that many fans thought was reserved for his ex, Selena Gomez:
My heart is COMPLETELY and FULLY YOURS and I will ALWAYS put you first! You are the love of my life Hailey Baldwin and I wouldn't want to spend it with anybody else. You make me so much better and we compliment eachother so well!! Can't wait for the best season of life yet!. It's funny because now with you everything seems to make sense!
Bieber was also keen to express that he wanted to set an example for his younger siblings so they could understand what a healthy marriage is all about. And to top all of that off, he delved a little bit into his spirituality:
The thing I am most excited for is that my little brother and sister get to see another healthy stable marriage and look for the same!!! Gods timing really is literally perfect, we got engaged on the seventh day of the seventh month, the number seven is the number of spiritual perfection, it's true GOOGLE IT!
Needless to say, it seems like Bieber has truly fallen for Baldwin. By all accounts, the feeling is mutual.
According to People magazine, Baldwin bought Bieber a ring to celebrate their engagement. The 21-year-old model reportedly stopped at Pristine Jewelers in New York City to buy Bieber a diamond ring with his initials.
Baldwin also reportedly bought herself a ring that said, "Baby."
While they were shopping, the newly engaged couple snapped a pic with the jeweler, which was posted to Pristine Jeweler's Instagram account:
Everyone in this photo looks genuinely happy, Baldwin especially.
"Congrats to the New Power Couple on their Engagement @justinbieber @haileybaldwin !!! All the Jewels 💎Pristine !!! #justinbieber#haileybaldwin #PristineJewelersNYC," the jeweler wrote on the Instagram post.
A new power couple, indeed! Now that the engagement ring is securely on Baldwin's finger and the couple has confirmed their impending marriage for their fans, it's time to start planning the wedding. Bieber and Baldwin are reportedly planning a small, intimate ceremony, according to People. So no TV special then?