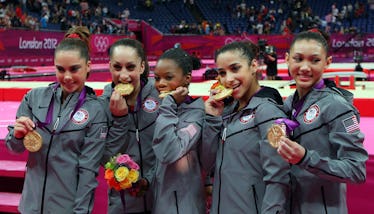 This Senator Is Trying To Do Something About The Gymnastics Abuse Case
Cameron Spencer/Getty Images Sport/Getty Images
On Wednesday, Jan. 24, just hours after disgraced former doctor Larry Nassar was sentenced to up to 175 years in jail for criminal sexual conduct, Senator Jeanne Shaheen called for an investigation on USA Gymnastics and the U.S. Olympic Committee (USOC). Shaheen made this call in a letter sent to Senate Majority Leader Mitch McConnell and Senate Minority Leader Chuck Schumer. Her letter asks the Senate to create a Select Committee (i.e. a special group within the Senate) to investigate the organizations to see how Nassar was able to abuse young women and girls in his capacity as a doctor for the women's gymnastics team.
Nassar was sentenced to up to 175 years in jail on Wednesday after pleading guilty to 10 counts of criminal sexual conduct. He was a doctor for USA Gymnastics and Michigan State University (MSU) up until 2015 and 2016, respectively, when allegations of sexual abuse turned into investigations. Over 150 women delivered victim impact statements in a Michigan court over seven days as part of his sentencing. That group included Olympians Aly Raisman, Simone Biles, McKayla Maroney, Jordyn Wieber, and Jamie Dantzscher. Raisman, Wieber, and Dantzscher spoke in court over the last week, and Maroney had a statement read on her behalf.
Shaheen's letter comes following many requests for Congress to do something about what may be the largest sexual abuse case in American athletics. Washington Post columnist Sally Jenkins wrote a piece on Wednesday calling for a congressional investigation, and Shaheen answered that call with her own letter on Wednesday night.
Shaheen wrote in her letter,
The USOC is a federally chartered institution and its athletes compete under the American flag, so the Senate has a clear responsibility to expand this investigation beyond the narrow criminal charges adjudicated in Michigan. We must investigate the actions of the USOC and USA Gymnastics, including testimony under oath from coaches, executives, and other personnel of the organizations.
Nassar's abuse allegedly went on for decades as he worked with USA Gymnastics and MSU. Already, some members of those organizations are facing consequences for their failure to protect the young women and girls. On Wednesday night, MSU President Lou Anna K. Simon announced her resignation, saying, "I can never say enough that I am so sorry that a trusted, renowned physician was really such an evil, evil person who inflicted such harm under the guise of medical treatment."
The NCAA opened an investigation on MSU, The New York Times reported on Jan. 23, and Michigan Attorney General Bill Schuette has said there will be a review of the university.
On Monday, Jan. 22, members of the USA Gymnastics Board of Directors announced their resignation. "We believe this step will allow us to more effectively move forward in implementing change within our organization," Kerry Perry, president and CEO of USA Gym, said in a statement. Perry had taken over following the March 2017 resignation of Steve Penny, which was prompted by the Nassar case.
On Jan. 24, the USOC put out an open letter apologizing to the survivors of Nassar's abuse. "I know this apology is not enough. We have been working on taking steps at the USOC and mandating changes among National Governing Bodies to ensure this does not happen again," Scott Blackmun, the USOC CEO, wrote in the letter. The steps the USOC plans to take, as laid out in the letter, include changing the culture of gymnastics, including the resignation of all USA Gym directors; launching an independent investigation; and providing funds for resources for the survivors. Blackmun wrote that the results of the investigation will be made public, so keep an eye out for that.
Full investigations are something that Raisman and other survivors of Nassar's abuse and former members of USA Gymnastics have been calling for. Raisman said in a statement on Wednesday following the sentencing that "there is still work to be done." Shaheen has requested that the Select Committee be formed before the Opening Ceremony of the Winter Olympics on Feb. 9. Shaheen has been a longtime supporter of sexual assault survivors within Congress, and hopefully, we will see USA Gymnastics and the USOC face full accountability for their oversight.