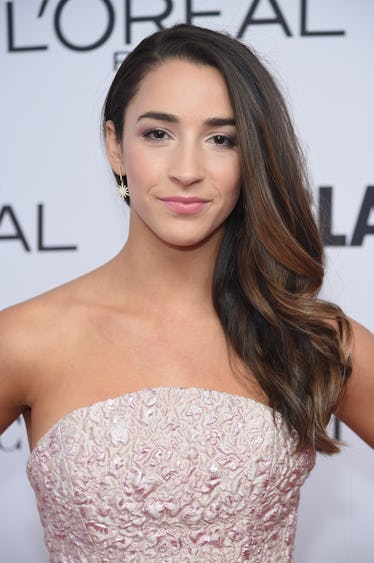 Aly Raisman's Statement About Larry Nassar's Sentencing Is Heartbreakingly Perfect
Jamie McCarthy/Getty Images Entertainment/Getty Images
On Jan. 24, 2018, the trial of Larry Nassar came to a definitive close when the disgraced doctor was sentenced to decades in prison. And a few hours later, Olympic gymnast and Team USA captain Aly Raisman released a statement on Larry Nassar's sentencing that says everything that needed to be said. Raisman's statement was both a heartfelt thank you to those who had worked to bring Nassar to justice, and a moving assertion that despite Nassar's actions, Raisman and the other young women he affected remain strong. And perhaps most importantly of all — it was a no-holds barred call to accountability for the organization that had allowed Nassar to prey on young women for so long.
On Wednesday afternoon, Judge Rosemarie Aquilina sentenced Nassar to 40 to 175 years in prison on 10 charges of criminal sexual conduct relating to his abuse of young girls while he worked with USA Gymnastics and Michigan State University. The 54-year-old former athletics doctor had already been sentenced to 60 years in prison on federal child pornography charges. "I just signed your death warrant," Aquilina said as she handed down the sentence.
In the statement Raisman released on Jan. 24, she thanked Aquilina for giving her the chance to be heard. She wrote,
To Judge Aquilina, thank you from the bottom of my heart. Your leadership, your professionalism, your compassion and your commitment to allow each and EVERY ONE of us survivors the opportunity to share our impact statement in open court was extremely important and meaningful. As I shared in court, I wasn't planning to speak, but thanks to the army of survivors and you, I am forever grateful that all of our voices are finally heard. Thank you for listening to us all.
In sentencing, the judge had taken into account the more than 150 victim impact statements that survivors of Nassar's abuse read aloud in court over the course of seven days, after Aquilina had declared that every person Nassar abused would have the opportunity face him.
One of those who did was Raisman.
In the statement, Raisman also thanked everyone who had helped make sure that Nassar was punished for his crimes, including the prosecutors and law enforcement officials who had worked on the case and trial. "If not for your efforts and dedication, I honestly do not know if he would have ever been held accountable for his disgusting abuse," she wrote.
And most movingly of all, Raisman acknowledged the courage and strength of those who had come forward against Nassar. She wrote,
Thank you fellow survivors for your courage, strength, and leadership, you have all had an overwhelming impact on me and I am proud to stand with you all — today, tomorrow, and every day that follows. As we all continue to process our pain and suffering, it is my hope that in some way, sharing our impact statements is part of our healing process. There are going to be good days and there are going to be tough days, but continue to take strength in the impact your courageous voice has had upon each of us, but also for all the other girls, boys, women, and men out there who remain in the shadows but maybe now can see a pathway towards the light.
Shortly after, Raisman tweeted out another message to her fellow survivors — this one an image of a list of names, some clear pseudonyms, with the words "THANK YOU" emblazoned in all caps along the bottom. She captioned it, "Army of survivors who are NOT going anywhere."
But most importantly of all, Raisman finished her statement by pointing out the work yet to be done and calling on the gymnastics community to take action. She wrote,
[In] order to move forward and to be confident that this will NEVER happen again we need an independent investigation to figure out exactly how this disaster happened. Thinking otherwise is dangerous to the future generation. Today was an important victory but there is still work to be done.
Perhaps the best tribute to the power and fortitude of those who spoke out about their abuse is to make sure no one else has to go through what they did. From her statement, it's clear that Raisman thinks so.