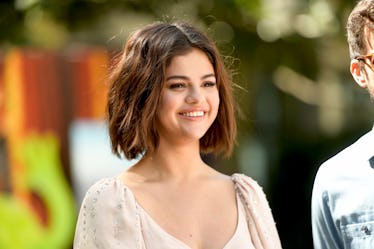 Selena Gomez's Mom Responded To Gabbana's "Ugly" Comment In The Best Way
Matt Winkelmeyer/Getty Images Entertainment/Getty Images
Selenators have been on high alert after Stefano Gabbana came for their queen on Instagram. The Twitterverse and even Miley Cyrus have clapped back in the singer's defense, and now Selena Gomez's mom is adding her voice to the narrative. It sounds like the "Back To You" songstress is taking the high road, because Selena Gomez's mom's response to Stefano Gabbana's "ugly" comment proves Gomez is too busy living her best life to care.
The 25-year-old, who has yet to respond to the Dolce and Gabbana designer's Instagram diss, isn't giving Gabbana or his comments the time of day, according to her mom. In an interview with People, Mandy Teefey said that Gomez's strategy is simple, but effective: "We ignore it."
She told the publication, "When someone has a desire to speak out about something by using a word so hateful," Gomez chooses not to engage. Instead, it's better to "disappear for a while and [have them] realize that's their issue." Sounds like solid mom advice to me.
Teefey also hinted that Gabbana — who had his MFW show in Milan, Italy on Saturday, June 16 — might have another motive for his actions. The 13 Reasons Why producer said it's better not to get caught up in all the drama, because "9 [times] out of 10 if you reply, they go, 'Oh my god, I'm your biggest fan.' They just want to get a reaction."
Although Gomez might be ignoring the hurtful comments, her fans have come to her defense in droves, and the designer reportedly had to turn off his Instagram comments. After Gabbana commented "è proprio brutta," aka "she's so ugly," on an Instagram photo of the "Wolves" hitmaker shared via The Catwalk Italia, things went down as legions of angry Selenators defended Gomez's beauty and criticized the Italian for online bullying. Some even returned the criticism by trolling Gabbana's appearance. Miley Cyrus was totally not here for insult, and came in like a wrecking ball to add her two cents to the situation.
Well what that d*ck head said (if it's true) is f*cking false and total bull sh*t
She wrote not one, but two Instagram comments on a throwback photo of her and Gomez, and it's the show of girl power and support that I needed.
She fine as f*ck 😻
Even though Gomez is a global star, she's just trying to live her life sans nasty comments, and maybe even meet a nice guy.
Joking that it's best to take rumors about Gomez's love life "with a grain of salt," Teefey told People that there are three qualities she hopes to see from a man that her daughter is dating, and honestly it's too relatable.
"A sense of humor," she said, adding that she also likes to see a man who is "family-oriented" and "someone who truly understands the life that she lives."
While Teefey is notoriously not a big fan of on again-off again boyfriend Justin Bieber, she did admit that there are some perks to finding someone who understands Gomez's life in the limelight. "I empathize with her a lot because could you imagine trying to find someone who isn't in this business that understands, they're gonna read she's cheating every five minutes on them? That's a special person," she said.
"I want them to care about her and not the fame and not trying to sell things or become something," she continued.
It's been a busy couple years for Gomez, who's still recovering from her kidney transplant and highly-publicized splits from the Biebs and ex The Weeknd, but she's got her own ways of coping with the stress and mental lows from Lupus.
"She goes and does yoga, does retreats, [and] goes hiking," Teefey said. "She takes a break." Sounds like a perfect way to block out the haters to me.