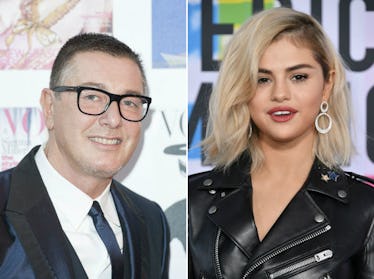 A Famous Designer Called Selena Gomez Ugly On Instagram & Her Fans Clapped Back So Hard
Jeff Spicer/Getty Images Entertainment/Getty Images; Neilson Barnard/Getty Images Entertainment/Getty Images
Listen up and pay attention: when you come for Selena Gomez, her fans will come for you. That is a fact. And no one is learning this lesson quicker than famed designer Stefano Gabbana, of Dolce & Gabbana. The designer made a completely unwarranted remark about Gomez's appearance on Instagram and her fans were ready to pounce. So, what happened exactly? Well, Stefano Gabbana called Selena Gomez ugly on Instagram and her fans clapped back in record time.
Here's how it all went down:
Popular Instagram account The Catwalk Italia posted a five-photo collage of Gomez in various red dresses (in which Gomez looked stunning, for the record). Naturally, the post got loads of attention, garnering nearly 50,000 likes and countless comments. Among those comments was one from Gabbana in which he wrote, "è proprio brutta." For anyone who can't speak Italian, that translates to, "she's so ugly."
The terrible comment was noticed by another Instagram account, Diet_Prada. In their Instagram story, Diet_Prada showed a photo of Gabbana's comment and overlaid "Omfg #pleasesaysorrytoselena" as the caption.
As expected, the whole situation went south from there. Gomez's fans across the board sprung into action and came to her defense.
One fan called out Gabbana directly:
@stefanogabbana don't you dare to call her ugly,she's gorgeous,I would do anything to be her,think before you speak,you should be ashamed by yourself for saying that and I can't see any imperfections in her.....so tell me,where she is ugly?
Another of Gomez's fans made a plea to stop online bullying:
@stefanogabbana shame on you for online bullying a young woman
Gabbana apparently turned off comments on his Instagram account, according to another fan:
@stefanogabbana how you gonna hate on someone beautiful from the inside out and then turn off your comments on your posts??
And then, of course, there were fans making sure the world knows how beautiful they think Gomez is, no matter what Gabbana says.
One fan called Gomez "one of the most beautiful human beings":
it's so sad because selena is definitely one of the most beautiful human beings i have ever seen
Other users decided to go low and call out Gabbana's looks. They got pretty brutal, so we don't have to go there.
Wow, the Selenators are definitely impassioned (and maybe even a little enraged). But they got their points across. That's for sure!
Did their clapback tactics have any impact, though? Maybe. Gabbana turned off his Instagram comments, after all, which was likely an effort to avoid having Gomez's legion of fans infiltrate his account.
This isn't the first time Gabbana has come under fire for negative comments. Just yesterday, June 12, Gabbana left an equally unflattering comment on a photo of Kate Moss on the same The Catwalk Italia account (what is this dude's deal?). It's probably safe to say that Gabbana isn't exactly looking to please people with his opinions.
Which is totally fine. But do opinions really have to come at the expense of other people? My take: no, they really don't.
At least, Gomez's fans are quick to defend their idol's honor. Plus, they seem to feel that basic kindness and human decency is much more appreciated these days than catty comments on social media. I'm sure most people agree with that, though.
In any case, Gomez has yet, so it's unclear whether she's aware of the controversy. And it doesn't look like Gabbana will be tapering his fiery personality on social media anytime soon.
So, all in all, this was a battle for the fans to fight and they seem to have triumphed for the time being!