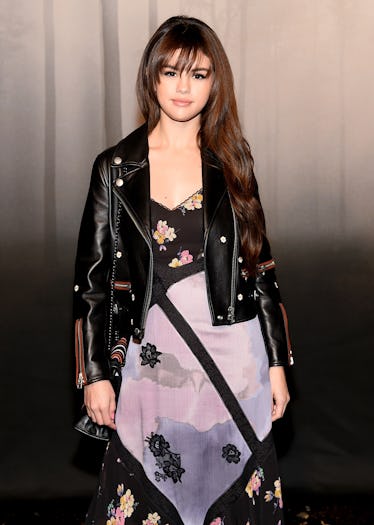 Selena Gomez Had A Major Complication After Her Kidney Transplant & The Details Are Scary
Jamie McCarthy/Getty Images Entertainment/Getty Images
New details are coming out about the life-saving kidney transplant Selena Gomez underwent in late 2017 and they're seriously terrifying. Gomez's good friend and kidney donor, actress Francia Raisa, opened up to W Magazine about Selena Gomez's kidney transplant complication, and it was nearly fatal.
As many fans know, Gomez was diagnosed with Lupus five years ago, which is an autoimmune disease where your body attacks your own organs as if they are foreign. As of now, there is no cure. Gomez told Today after her surgery, "I had arthritis, my kidneys were shutting down. My mentality was just to keep going."
Fans first learned about Gomez's kidney transplant on Sept. 14, 2017, when the actress and singer posted a tribute to Raisa, her family, and doctors on her Instagram page. The photos included one of Gomez and Raisa holding hands on adjacent hospital beds, and two polaroids which show Gomez's scars and recovery. The caption to the post read,
I'm very aware some of my fans had noticed I was laying low for part of the summer and questioning why I wasn't promoting my new music, which I was extremely proud of. So I found out I needed to get a kidney transplant due to my Lupus and was recovering. It was what I needed to do for my overall health. I honestly look forward to sharing with you, soon my journey through these past several months as I have always wanted to do with you. Until then I want to publicly thank my family and incredible team of doctors for everything they have done for me prior to and post-surgery. And finally, there aren't words to describe how I can possibly thank my beautiful friend Francia Raisa. She gave me the ultimate gift and sacrifice by donating her kidney to me. I am incredibly blessed. I love you so much sis. Lupus continues to be very misunderstood but progress is being made. For more information regarding Lupus please go to the Lupus Research Alliance website: www.lupusresearch.org/ -by grace through faith
Gomez and Raisa have since been very open about their surgeries, and now we're learning more details about a scary complication Gomez had after her kidney transplant. Raisa told W Magazine,
A few hours after our surgery, I woke up and had a text from her [Selena] that said, 'I'm really scared.' My kidney was very active, and when it turned I broke an artery. They had to take her into emergency surgery and get a vein from her leg and build a new artery to keep my kidney in place. She could have died.
Gomez briefly touched on this complication in her sit-down with Today in October 2017. She told Savannah Guthrie,
It was a six-hour surgery that they had to do on me, and the normal kidney process is actually two hours. Apparently, one of the arteries had flipped. I'm very thankful that there are people that know what to do in that situation.
Through the low times, though, it's so apparent that Gomez and Raisa have leaned on each other. Back on Nov. 30, 2017, Raisa presented Billboard's 2017 Woman Of The Year award to Gomez, and there wasn't a dry eye in the room. In her acceptance speech, an emotional Gomez said,
To be honest, I think Francia should be getting this award because she saved my life. I feel incredibly lucky ... honestly I couldn't be more grateful for the position that I've been given in my career, from 7 to 14 to now. I want people to know that I respect the platform that I have so deeply because I knew that I wanted to be a part of something great and I want people to feel great because I love people. But, specifically, this year I would like to thank my amazing team and my family because they stuck with me through some really hard times.
Looking forward to the future, there's nothing but clear skies for these two hardworking women. Raisa told W Magazine she plans to get into producing while she plays Ana Torres on the Freeform hit Grownish, and fans are patiently (but not so patiently) waiting for a new album from Gomez this year.